Olive oil pro­duc­ers, dis­trib­u­tors, retail­ers, chefs, jour­nal­ists, qual­ity con­trol pro­fes­sion­als and food­ies from across the globe con­verged on New York's International Culinary Center October 8 to 10 to par­tic­i­pate in an inno­v­a­tive, world-class pro­gram focused on extra vir­gin olive oil qual­ity. The sold-out Olive Oil Sommelier Certification Program launched the first in a com­pre­hen­sive, three-part series of courses designed to cover pro­duc­tion, qual­ity man­age­ment, and advanced sen­sory assess­ment of the prized com­mod­ity that con­tin­ues its per­pet­ual rise in gas­tron­omy, cul­ture and health.
Hailing from the U.S and as far afield as New Zealand, Greece, and Canada, 40 would-be olive oil som­me­liers spent three days in inten­sive study with a fac­ulty of renowned experts in the var­i­ous dis­ci­plines that an under­stand­ing of this com­plex prod­uct com­prises. The instruc­tors included one of the world's lead­ing experts on chemosen­sory sci­ence; a judg­ing panel leader; an ole­ol­o­gist; an award-win­ning miller; New York's top-rated chef, nutri­tion­ists, and jour­nal­ists.
While the par­tic­i­pants' prior level of knowl­edge on the topic var­ied with their pro­fes­sional back­grounds, a broad sam­pling of their indi­vid­ual assess­ments of the course showed remark­able con­sis­tency. Not only did the stu­dents feel their level of knowl­edge had been raised sub­stan­tially, but most went on to state with empha­sis that the class would have a sig­nif­i­cant pos­i­tive effect on their busi­nesses, their crafts, and their sales. More than a few said they had been thor­oughly inspired.
David Sullivan, an olive grower and pro­ducer of extra vir­gin olive oil for New Zealand's Mahurangi Olives Ltd., part of the Matakana Olive Cooperative, was among the enthu­si­asts. ​"The qual­ity of pre­sen­ters, their knowl­edge and pas­sion were excel­lent. Having experts present and coach us as we learned how to eval­u­ate EVOO has given me a much greater under­stand­ing of how to apply sen­sory eval­u­a­tion tech­niques to pro­duc­tion," he said.
Small-scale EVOO pro­ducer Gregory Diharce from Zakynthos Island, Greece, con­curred. ​"Part of the expe­ri­ence that was so enjoy­able was the pas­sion our instruc­tors expressed. They men­tioned sev­eral times that it's impor­tant to edu­cate so we can change the per­cep­tion of olive oil. No ques­tion, every­one left feel­ing the same sen­ti­ment."
The expan­sion of edu­ca­tion on this bur­geon­ing topic has been long cham­pi­oned by the pro­gram's exec­u­tive direc­tor, Curtis Cord, who devel­oped the frame­work for the cer­ti­fi­ca­tion course with the late Dorothy Cann Hamilton, the founder of the International Culinary Center. Cord is the pub­lisher of Olive Oil Times, and the found­ing pres­i­dent of the New York International Olive Oil Competition.
The Olive Oil Sommelier Certification Program is jointly pro­duced by the International Culinary Center and the Olive Oil Times Education Lab which sup­ports projects that fos­ter a greater under­stand­ing of olive oil through col­lab­o­ra­tive ini­tia­tives with part­ner orga­ni­za­tions.
"Dorothy under­stood the impor­tance of olive oil in cul­ture and gas­tron­omy and while so many cook­ing schools and culi­nary lead­ers still seem ambiva­lent to this topic, Dorothy was not," Cord said as he addressed the atten­dees at the begin­ning of the pro­gram. ​"Her lead­er­ship and encour­age­ment were vital to the culi­nary land­scape. And even with olive oil, she was instru­men­tal in our devel­op­ment of the New York olive oil com­pe­ti­tion launched here in her school five years ago.
"But we knew there was more we needed to do, and first and fore­most Dorothy was an edu­ca­tor. Today's course is the first step toward real­iz­ing that vision we shared, which is to fos­ter a greater under­stand­ing of this food that has been a part of our cul­tural and culi­nary her­itage for thou­sands of years."
By its very exis­tence, par­tic­i­pants in the level-one course stated, this new avenue for the advance­ment of knowl­edge and exper­tise on olive oil qual­ity opens the field of study to new hori­zons.
"This course com­pletely took things to the next level," said John Canevari, owner of The Blue Olive in Pawling, New York. ​"The depth and expos­i­tory nature of the pro­gram pro­vided a whole new expe­ri­ence. Let me just say this: The course mate­r­ial was dead on point, the instruc­tion was extra­or­di­nary, the sen­sory work was eye-open­ing, and the col­lab­o­ra­tion was invig­o­rat­ing."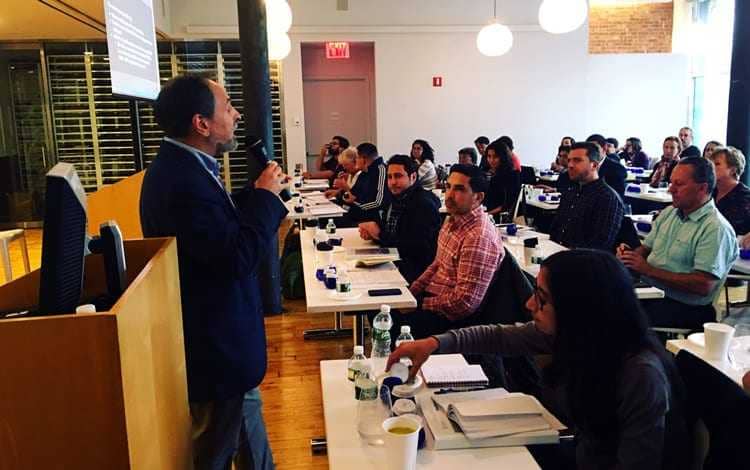 "I did not know what to expect," said Michael Favuzzi, owner of a Canadian-based import­ing and dis­trib­ut­ing com­pany who said he plans to send his staff to future courses. It seemed, he said, that Cord and his fac­ulty had been teach­ing the class for years. ​"I was seri­ously impressed and I can't believe it's the first time they have done such a work­shop."
Salvatore Russo-Tiesi is the man­ag­ing direc­tor of Bono USA, a sub­sidiary of Bono SAS based on Sicily. The com­pany is a lead­ing man­u­fac­turer of extra vir­gin olive oil in Southern Italy, its Bono 100% Organic Blend and Bono PDO Val di Mazara EVOOs both gold medal win­ners at the 2016 New York International Olive Oil Competition. Tiesi echoed Favuzzi's sen­ti­ment not­ing, ​"the pro­gram was excep­tional."
NYIOOC panel leader Carola Dümmer Medina, the renowned taster and expert in Southern Hemisphere olive oils flew in from Chile to illus­trate the diverse cul­ti­vars and taste pro­files of New World oils as she walked the class through sam­ple after sam­ple offer­ing expert guid­ance with each analy­sis.
Oleologist Nicholas Coleman, a for­mer NYIOOC taste panel judge and co-founder of Grove and Vine has taught olive oil courses for Zagat's mas­ter class series, Bon Appetit, The Institute for Culinary Education, and New York and Columbia Universities.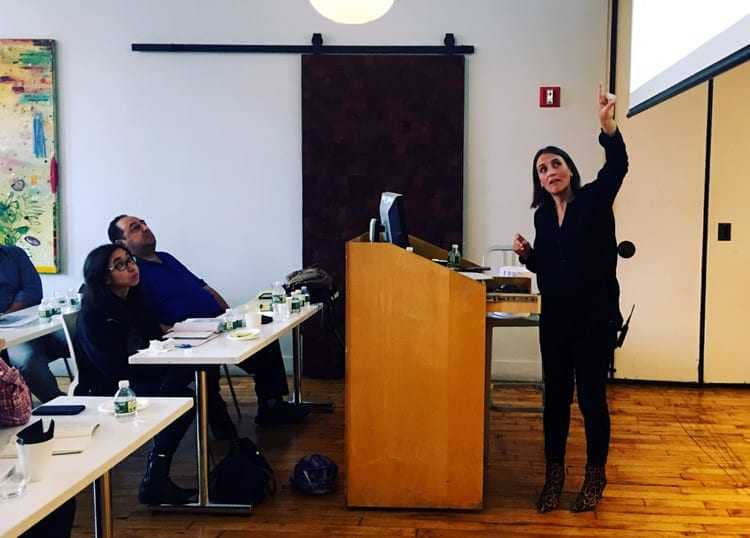 "In addi­tion to iden­ti­fy­ing defects, we com­piled fifty world-class oils from Portugal, Spain, France, Italy, Croatia, Slovenia, Greece, Morocco, Tunisia, California, Chile, Argentina, Brazil, Australia, New Zealand and South Africa," Coleman noted. ​"The goal was to offer an unpar­al­leled edu­ca­tional expe­ri­ence for atten­dees to learn about the aro­mas, fla­vors and tex­tures of the world's finest olive oils."
Those fifty oils were curated from the vast library of sub­mis­sions to the New York International Olive Oil Competition which is likely the sin­gle largest col­lec­tion of high-qual­ity olive oils any­where in the world. The cross-sec­tion of inter­na­tional olive oils stood out as a major bonus to par­tic­i­pants for the sen­sory eval­u­a­tion com­po­nents of the course.
Monell Chemical Senses Center pres­i­dent Gary Beauchamp illus­trated the fun­da­men­tals of sen­sory sci­ence and his dis­cov­ery of oleo­can­thal; award-win­ning California pro­ducer Pablo Voitzuk of Pacific Sun Farms con­nected pro­duc­tion processes with the sen­sory char­ac­ter­is­tics they affect; Albert Einstein College of Medicine nutri­tion­ist Keith Ayoob pro­vided insights into the real-world health ben­e­fits of EVOO and mas­ter mer­chant Steve Jenkins chimed in with what he had learned from 35 years of sell­ing qual­ity olive oils to New Yorkers. Cord dis­cussed olive oil grades, inter­na­tional stan­dards and enforce­ment, and he framed each ses­sion over the three days within a con­tin­u­ous story pro­vid­ing con­text and com­men­tary through­out.
The James Beard ​"Best Chef in New York" win­ner, Mark Ladner of Del Posto cooked Italian regional spe­cial­ties for the class to demon­strate how a prop­erly paired extra vir­gin oil can ele­vate the tastes of dishes to new heights. (He used Roi Cru Gaaci Taggiasca from Liguria for a pesto pasta, Frantoio Franci Villa Magra Grand Cru Frantoio from Tuscany on a steak and Mandranova Nocellara for gelato.)
Russo-Tiesi expressed what many reported fol­low­ing the three-day work­shop. ​"I was able to learn a lot about oils from the Southern Hemisphere and to com­pare and con­trast them with those from the Northern Hemisphere which were per­haps more rec­og­niz­able. It was very diverse, very well-rounded." And for those like Russo-Tiesi, who came to the class to obtain a bal­ance between an exist­ing exper­tise in the pro­duc­tion, com­mer­cial or culi­nary side of olive oil and sen­sory skills, ​"This course allowed my palate to catch up to the tech­ni­cal side of my knowl­edge."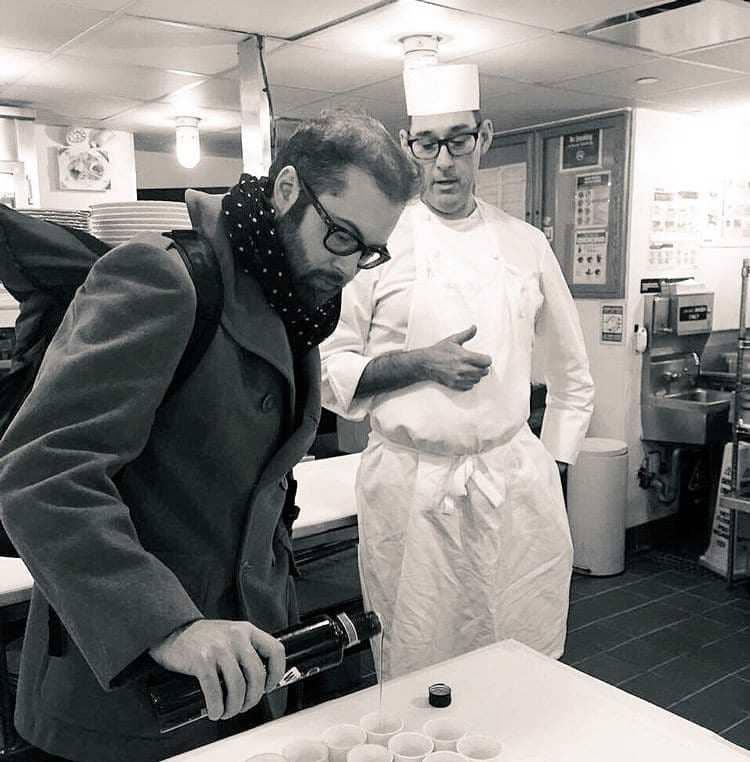 Not all who attended the som­me­lier course came armed with the exten­sive expe­ri­ence of millers and pro­duc­ers. Jackie Dougherty, owner of City2Shore Gourmet out of south­ern New Jersey works with Italian pro­duc­ers in Spoletto, Italy and now pro­duces her own brand of EVOO. She said she had just begun to scratch the sur­face of the infor­ma­tion offered by the course, but that the instruc­tors were respon­sive to ques­tions and sug­ges­tions from those more in the inter­me­di­ate cat­e­gory. ​"I learned so much, it's amaz­ing. I'm still pro­cess­ing it all." Since she has returned from the course, she has taken action to con­tinue her edu­ca­tion.
Sometimes Dougherty found that she had no points of ref­er­ence in her own expe­ri­ence for cer­tain descrip­tions of tastes and fra­grances iden­ti­fied by the instruc­tors. For exam­ple, ​"I didn't know what a green almond smelled like. So what I've done since return­ing is to start a sen­sory library," she said, heed­ing the advice of instruc­tors to work on the devel­op­ment of an inter­nal sen­sory cat­a­log that takes time and com­mit­ment. Dougherty said she plans to source herbs and spices, veg­eta­bles, even tea com­monly asso­ci­ated with EVOO fla­vor pro­files to absorb and reg­is­ter them in her mind and palate.
"My brother lives in California next to almond coun­try, so I asked him to send me some green almond leaves." She's also con­tin­u­ing her explo­ration of the var­i­ous cul­ti­vars, their ori­gins, com­mon denom­i­na­tors, and vari­ables. She said of the class, ​"I loved it. The course intro­duces you to a level of exper­tise I can't wait to have."
Level One of the Olive Oil Sommelier Certification Program will be offered again February 4 – 6, fol­lowed imme­di­ately by the advanced lev­els February 7 – 10 and those who may have missed the first series will likely have to be quick on the draw if they plan to reg­is­ter. The first one sold out in just a few weeks.
Said Canevari, ​"I walked away not only con­vinced about my con­tin­u­a­tion to the advanced courses, but with a whole new level of aware­ness and recog­ni­tion of my desire to work in this dis­ci­pline, and a more pro­found appre­ci­a­tion of EVOOs. Curtis Cord put together a remark­able pro­gram and I can­not wait for the next rounds."
---