The world's best olive oils were unveiled at a press con­fer­ence just min­utes ago at the International Culinary Center when event orga­nizer and Olive Oil Times pub­lisher Curtis Cord, Steve Jenkins of Fairway Market, the founder and CEO of the International Culinary Center, Dorothy Hamilton, and the chief judge of the com­pe­ti­tion, Gino Celletti, sum­ma­rized before a packed room of media rep­re­sen­ta­tives from around the world, the win­ners of the 2013 New York International Olive Oil Competition.
The com­pe­ti­tion saw 702 extra vir­gin olive oil entries, 653 of which made it here from 22 coun­tries in time for the judg­ing. A grand total of 20 coun­tries have taken home 260 awards from Best of Class, to Gold and Silver. The coun­tries tak­ing home the most over­all awards were Italy, with 83 awards, Spain, with 51 awards, and the United States, with 36 awards.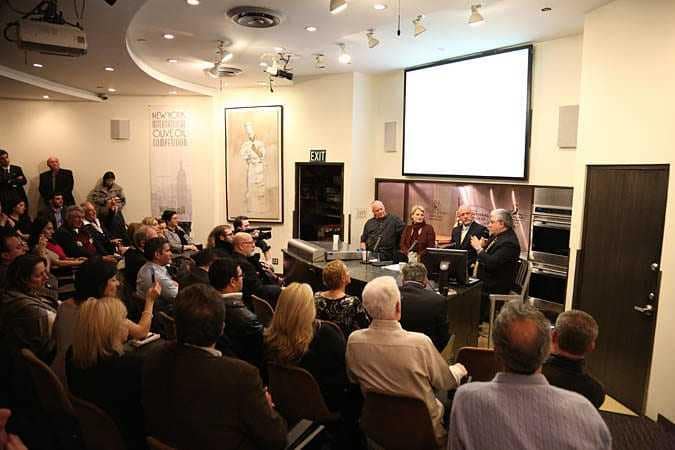 Italy won big with eight Best of Class Awards and an astound­ing 51 Gold Awards. Spain fol­lows with 3 Best of Class and 27 Gold, two of which were claimed by Aceites Melgarejo. Another three Best of Class were awarded to Australia, as well as five Gold Awards, two of which were col­lected by Rylstone Australian Olive Oil. Peru, New Zealand, and South Africa each received one Best of Class.
The United States received a total of 21 Gold Awards, two of which were taken by both Il Fiorello Olive Oil Company, and Apollo Olive Oil. Portugal fol­lowed with 16 Gold Awards, and Croatia with eight, while France, Greece, and Uruguay each earned three Golds Awards. Countries awarded with one Gold each include, Chile, Israel, Japan, Morocco, Peru, Slovenia, Tunisia, and Turkey.
Cobram Estate, the largest olive oil pro­ducer in Australia, and Frantoio Franci of Italy, each won two Best of Class Awards.
See the Complete Results