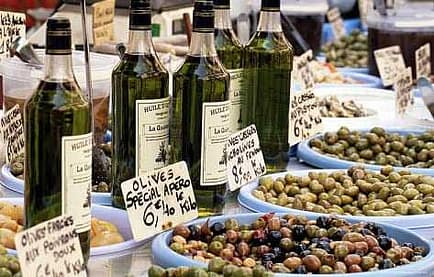 The out­door mar­ket, or marché in Provence, is famous for its col­ors and sounds, and it reflects the strong ties of the French to the pro­ducer. Locals and tourists go for the fresh­est of regional and local pro­duce; the best fruit, char­cu­terie and extra vir­gin olive oils.

Recently how­ever, there has been a glut of low qual­ity olive oils on sale, and Provençal pro­duc­ers, renowned for their excel­lent extra vir­gin olive oils are con­cerned that the gen­eral pub­lic is being tricked.
The regional news­pa­per Var-Matin reported that poor qual­ity olive oil is eas­ily being passed off as olive oil from Provence in these coun­try mar­kets. Displayed with an array of attrac­tive food prod­ucts from the region, con­sumers, look­ing for a bar­gain and bedaz­zled by pretty bot­tles boldly sug­gest­ing they con­tain olive oil from Provence are being lured into buy­ing poorer qual­ity oils. Often the oils are not even made in France
Some are imported, oth­ers are low grade French oils packed in dec­o­ra­tive con­tain­ers that con­vey some­thing made nearby.
Extra vir­gin olive oil from Provence sells for around 14 euros (18 USD) per liter.
Olive oil pro­duc­ers of the Var, a depart­ment in the region Provence-Alpes-Côte d'Azur say it's hard to see imported olive oils, often in typ­i­cal French pack­ag­ing, sell­ing like hot cakes in their own local mar­kets.
Olivier Roux pres­i­dent of the com­mit­tee in charge of pro­mot­ing of olive oil in the Var and mem­ber of L'association Française Interprofessionelle de L'Olive (Afidol) said ​"If People want to buy olive oil from Spain, Italy of Tunisia, it's their right but they must know what they're buy­ing."
In the inter­view with Var Matin he added: ​"Regulations regard­ing European label­ing are not clear. For exam­ple because there is no spe­cific reg­u­la­tion deter­min­ing the height of the let­ter­ing in the com­pul­sory UE (Origine Communauté Européene) label, this infor­ma­tion is hardly vis­i­ble on the bot­tles."
In an effort to crack down on fraud­u­lently labeled olive oil, pro­fes­sional mem­bers from Afidol are spend­ing time this sum­mer vis­it­ing the var­i­ous mar­kets in Provence inform­ing the pub­lic on prove­nance and the authen­tic­ity of French olive oil.
Afidol added a new logo to their labels this year which should helps con­sumers iden­tify the dif­fer­ent Provencal fla­vors. Gout a l'ancienne replaces fruité noir, gout sub­til for fruité mûr and gout intense replaces fruité vert.
---