Extreme weather has heav­ily impacted olive grow­ers in south­ern Italy. In the last few days, sud­den and vio­lent hail­storms hit olive groves in Salento, in the Puglia region.
According to the farm­ers orga­ni­za­tion Coldiretti, approx­i­mately 40 per­cent of the olives for the cur­rent sea­son were lost in the area.
Xylella is a global phe­nom­e­non, not merely European. Thanks to the advances in sci­en­tific research… we are see­ing sig­nif­i­cant progress.
In the last decade, olive farms around Salento have been dev­as­tated by Xylella fas­tidiosa. New groves in the area are planted with Leccino and Favolosa, the two olive cul­ti­vars that show sig­nif­i­cant resis­tance to the bac­te­ria.
"New resis­tant olive trees need three or four years to pro­duce olives," Coldrietti wrote. ​"And now that some olive grow­ers can go back to har­vest­ing the fruits after ten years of epi­demic, there we go with another loss due to extreme events such as hail­storms, tor­na­dos and cloud­bursts."
See Also:
Art Exhibition Reflects on Xylella's Devastating Impact
The chal­leng­ing sit­u­a­tion in Puglia was among the focal points of the Fourth European Conference on Xylella, orga­nized by the European Food Safety Authority (EFSA).
Xylella fas­tidiosa
Xylella fas­tidiosa is a gram-neg­a­tive bac­terium that is known for caus­ing a vari­ety of plant dis­eases. It is a pathogen that pri­mar­ily affects the xylem, which is the plant tis­sue respon­si­ble for trans­port­ing water and nutri­ents from the roots to other parts of the plant. Xylella fas­tidiosa is a sig­nif­i­cant con­cern in agri­cul­ture and forestry because it can infect a wide range of plant species, lead­ing to eco­nomic losses and envi­ron­men­tal dam­age.

This bac­terium is trans­mit­ted by insect vec­tors, such as sharp­shoot­ers and spit­tle­bugs, which feed on plant sap. When these insects feed on infected plants, they acquire the bac­terium and can then trans­mit it to healthy plants when they feed on them. Xylella fas­tidiosa can infect both agri­cul­tural crops and orna­men­tal plants, and it has been respon­si­ble for dev­as­tat­ing dis­eases in var­i­ous parts of the world.

Some of the well-known dis­eases caused by Xylella fas­tidiosa include Pierce's Disease, Citrus Variegated Chlorosis (CVC) and Olive Quick Decline Syndrome (OQDS).

Efforts to con­trol Xylella fas­tidiosa include the use of insec­ti­cides to man­age the insect vec­tors, as well as efforts to quar­an­tine and remove infected plants to pre­vent fur­ther spread. Research is ongo­ing to develop more effec­tive strate­gies for man­ag­ing and pre­vent­ing the spread of this bac­terium and its asso­ci­ated plant dis­eases.
EFSA plays a cru­cial role in the sci­en­tific coor­di­na­tion of the oper­a­tions against Xylella fas­tidiosa and sup­ports the European Commission and mem­ber states in estab­lish­ing pro­ce­dures, guide­lines and meth­ods.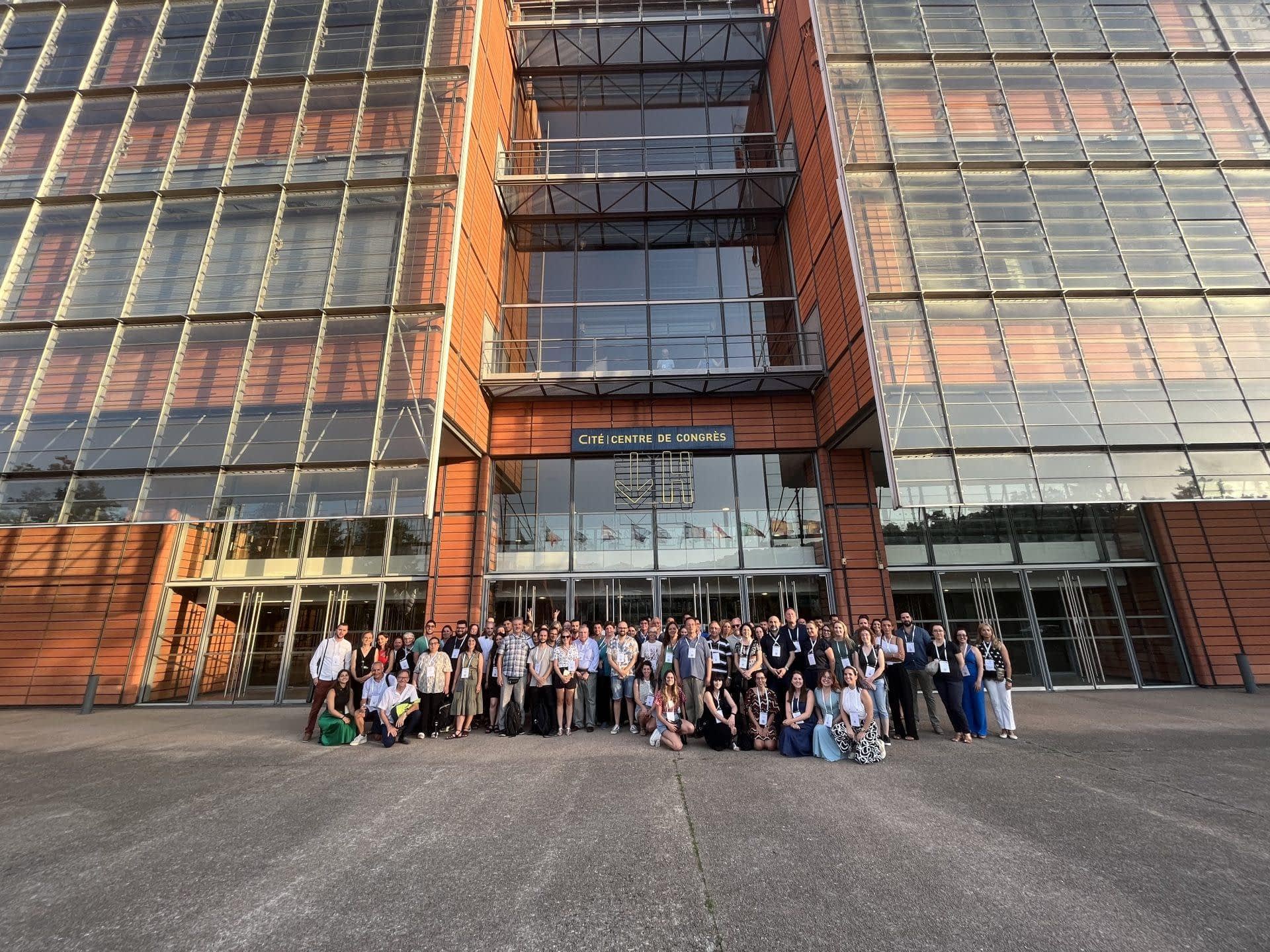 Ahead of the con­fer­ence, the doc­u­men­tary movie ​"The Era of the Giants" was pre­sented to the del­e­gates. It inves­ti­gates the social, eco­nomic and land­scape impacts of Xyella fatidiosa in a region where the mon­u­men­tal olive trees had thrived for mil­len­nia.
"That is very sig­nif­i­cant, as it allows the European pub­lic to wit­ness the dev­as­tat­ing impact of the pathogen," Giuseppe Stancanelli, EFSA's plant health risk assess­ment team leader, told Olive Oil Times.
"Communication to the pub­lic is a key fac­tor to ensure the suc­cess of plant health strate­gies," Stancanelli added, hint­ing at the comic strip recently pub­lished by EFSA.
"It stresses the impor­tance of sci­ence in devel­op­ing strate­gies to deal with plant health threats, such as Xylella," he said.
In col­lab­o­ra­tion with the European Commission and mem­ber states, EFSA also launched the #PlantHealth4Life cam­paign.
"The goal is to raise European cit­i­zens' aware­ness about the impor­tance of plant health and everyone's respon­si­bil­ity to safe­guard it," Stancanelli said.
In the E.U., Italy is not the only coun­try affected by Xylella fas­tidiosa. Other strains of the bac­te­ria have been found in the Balearic Islands of Spain, Portugal and France. Insect vec­tors such as spit­tle­bugs carry the pathogen from one plant to the next, infect­ing olive trees, almonds and dozens of other plant species.
Over the years, the Xylella fas­tidiosa out­break, cou­pled with the grow­ing under­stand­ing of the threat rep­re­sented by the epi­demic, spurred an array of E.U.-wide activ­i­ties.
"Xylella is now included in the list of the main quar­an­tine plant pathogens main­tained at the E.U. level, the so-called Priority Pests," Stancanelli said. ​"That brought all mem­ber coun­tries to develop pre­ven­tive con­tin­gency plans and to inten­sify sur­veil­lance."
EFSA main­tains the only global data­base of plants infected by the dif­fer­ent Xylella fas­tidiosa strains.
"That sup­ports mem­ber states in case of new out­breaks," Stancanelli said. ​"It is also use­ful for local insti­tu­tions and farm­ers to decide what to plant in infected areas. It also reports the vari­eties of plants which showed tol­er­ance or resis­tance to Xylella."
According to the con­fer­ence's con­clu­sions, cur­rent means to cur­tail the spread of Xylella fas­tidiosa are improv­ing as new tools are devel­oped.
"Xylella is a global phe­nom­e­non, not merely European," Stancanelli said. ​"Thanks to the advances in sci­en­tific research, new tools that allow the detec­tion over exten­sive areas and advanced pest con­trol strate­gies, we are see­ing sig­nif­i­cant progress."
"At the con­fer­ence, it emerged how knowl­edge about the biol­ogy and the ecol­ogy related to the vec­tor insects is grow­ing," Stancanelli said. ​"Not only in the Mediterranean area but also in Northern Europe."
Current research funded by the E.U. includes work on pre­ven­tion, con­trol, ecol­ogy and soci­ety, such as the BEXYL project, as well as the devel­op­ment of new bio­con­trol solu­tions act­ing either against Xylella fas­tidiosa or its vec­tor, such as the BIOVEXO project.
BEXYL and BIOVEXO co-orga­nized the Xylella con­fer­ence in col­lab­o­ra­tion with EFSA and other E.U. projects.
A large part of the efforts funded by the E.U. goes into fos­ter­ing col­lab­o­ra­tion and coor­di­na­tion among the many national enti­ties involved.
Key to the E.U.'s strate­gies is early detec­tion. ​"With EFSA sci­en­tific sup­port, all European coun­tries are mon­i­tor­ing their whole ter­ri­tory," Stancanelli said.
Extended mon­i­tor­ing oper­a­tions fol­low EFSA guide­lines and can spot new out­breaks. That allows for a quick inter­ven­tion to con­tain fur­ther spread­ing.
"Significant progress has been made in the sur­vey and mon­i­tor­ing sys­tems and diag­nos­tics, such as those for ana­lyz­ing aer­ial and satel­lite images," Stancanelli said.
"For exam­ple, if we need to mon­i­tor all of the olive farm­ing areas in the Mediterranean region, we can­not rely on on-field vis­its only," he added. ​"We need to be able to ana­lyze large por­tions of the ter­ri­to­ries all at once. Now that tech­nol­ogy is avail­able."
Other cru­cial aspects debated at the con­fer­ence include those olive vari­eties that show tol­er­ance or resis­tance to Xylella fas­tidiosa, such as Leccino.
"There is progress in the research aim­ing to uncover the mech­a­nism of such resis­tance," Stancanelli said. ​"It is of great inter­est, as unlock­ing these aspects can also allow us to find those mech­a­nisms in other olive cul­ti­vars."
Since it was first tried in Puglia, the graft­ing meth­ods can pave the way to iden­tify new sources of resis­tance to Xylella.
"In Israel, where Xylella attacked almonds, researchers iden­ti­fied resis­tant almond vari­eties by graft­ing them over infected plants, root­stocks, and observ­ing their responses," Stancanelli said.
"All over the world, Xylella has become a pri­or­ity plant pathogen," he con­cluded. ​"Today, sci­en­tific research and inter­na­tional coor­di­na­tion allow us to see hope in the strug­gle against the pathogen."
---
---