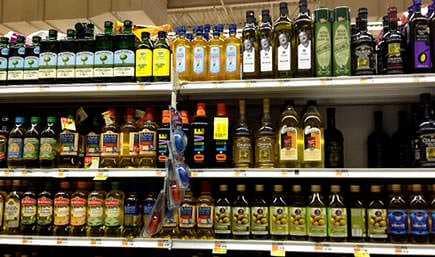 Photo: Vivien Cord
Olive oil imports increased 38 per­cent in China, 21 per­cent in Japan, 15 per­cent in Russia, and 9 per­cent in both the United States and Brazil in 2011/12, accord­ing to International Olive Council fig­ures.
Published in the IOC's mar­ket newslet­ter for December, the data — still pro­vi­sional but now cov­er­ing the full year from October to September — also shows that imports in Australia held steady but fell 1 per­cent in Canada.
In the table olive mar­ket, imports rose 15 per­cent in Brazil and 1 per­cent in Australia, remained sta­ble in Canada and fell 4 per­cent in the U.S. and 3 per­cent in Russia.
Extra vir­gin olive oil prices
Ex-mill prices in Spain increased by 50 per­cent between December 2011 and December 2012, when they reached €2.68/kg and finally regained what had been their level back in April 2007, the IOC newslet­ter also reports.
In Italy, prices rose 23 per­cent between December 2011 and December 2012. And in the space of the month to the sec­ond week of last December they went from €2.67/kg to €2.98/kg.
"In Greece, pro­ducer prices have risen more evenly and slowly, going up from €1.82/kg (late July) to €2.04/kg in the third week of December. The price increase vis-à-vis the same week of the year before works out at 8 per­cent," the IOC said.
The gap between the price of refined olive oil and extra vir­gin olive oil is cur­rently around €0.10/kg in Spain and €0.64/kg in Italy.
U.S. imports to fall
Imports in the cru­cial U.S. mar­ket are fore­cast to fall from 294,000 tons in the 2011/12 crop year (October to September) to 285,000 tons in 2012/13, as U.S. pro­duc­tion mean­while dou­bles from 6,000 to 12,000 tons, accord­ing to a sep­a­rate IOC doc­u­ment titled ​"Key-fig­ures on the world mar­ket for olive oils."
But the IOC expects a small rise in imports in another big mar­ket, Brazil, from 68,000 to 70,000 tons.
Global olive oil pro­duc­tion is pre­dicted to total 2.7 mil­lion tons and con­sump­tion 3.1 mil­lion tons, down from 3.4 mil­lion and 3.2 mil­lion respec­tively last sea­son.
---