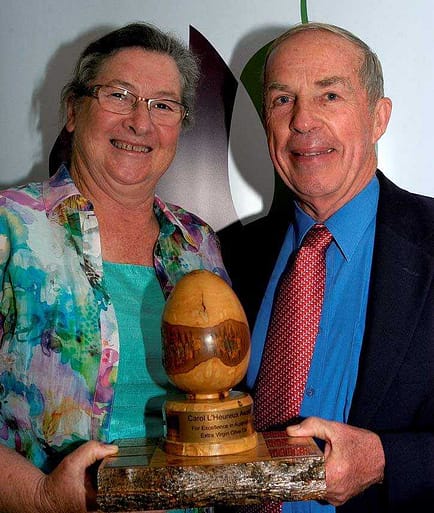 John and Lorraine Milla, Abilene Grove
High alti­tude, a cool cli­mate and selected olive vari­eties are among the secrets to suc­cess for Abilene Grove Blend, rated this year's best extra vir­gin olive oil in Australia.
Produced at 850m above sea level in rural New South Wales, the blend has a com­plex aroma of green apple and fresh oregano, accord­ing to the judges for the 16th Australian National Extra Virgin Olive Oil Show.

At an awards din­ner in Adelaide last week, the blend took a gold medal and best in class in the sin­gle estate (min. 200 liters) class, and Cobram Estate, Australia's biggest EVOO pro­ducer, took the top hon­ors in the multi-estate (>5,000 liter) cat­e­gory.
More win­ners
Also best in their class were Mount Zero Olives' Picual, Coratina, Manzanillo, with a sil­ver medal in the multi estate 200 – 4,999 liters class; Oasis Olives' Frantoio (gold), in the non-pack­aged min. 200 liters class; Golden Creek Olives' Arbequina (gold), in the micro 50 – 199 litres, and Preston Valley Grove's Chilli (sil­ver) in the fla­vored oils min. 50 liters class.
Red Island won Grove of the Year, and Golden Creek Olives took home the Excellence Award for a pro­ducer with less than 200 liters. Coriole Kalamata Jumbo Olives won best in show in the table olives show.
Weather took a toll
Cobram Estate dubbed its win acknowl­edg­ment of it as ​"Australia's #1 super­mar­ket olive oil," but co-founder Rob McGavin said an unsea­son­ably wet sum­mer in south­ern Australia had made it a chal­lenge. ​"To receive this recog­ni­tion by the indus­try is an out­stand­ing achieve­ment in what has been a very hard year to pro­duce high qual­ity and high inten­sity extra vir­gin olive oils," he said.
Chief judge frank on FFA and per­ox­ide val­ues
In his report as chair­man of the com­pe­ti­tion, Richard Gawel noted that the aver­age free fatty acid level of exhibits this year, 0.23 per­cent, was up on pre­vi­ous years.
"Average per­ox­ide val­ues were 7.1, which while accept­able, an aver­age between 5 and 6 is both desir­able and achiev­able" he wrote.
One oil, Rich Glen Olives Signature, won a sil­ver medal despite hav­ing an FFA of 0.8 per­cent, the high­est level an olive oil can have and still be con­sid­ered extra vir­gin. Another won a bronze with an FFA of 0.7, accord­ing to the offi­cial results.
Gawel noted ​"While there were more gold medals awarded this year as a pro­por­tion of total entries than in pre­vi­ous years, on aver­age I thought that the aver­age qual­ity was only equiv­a­lent to pre­vi­ous years. This should not be seen as a major crit­i­cism as it is under­stood that the pro­duc­tion of extra vir­gin olive oil is influ­enced by sea­sonal vari­a­tion which also impacts on pro­duc­tion."
Australian indus­try turn­ing a cor­ner
The awards marked the end of the Australian Olive Association's two-day National Olive Industry Conference and Trade Exhibition. AOA CEO Lisa Rowntree said the event was her­alded as a turn­ing point for the sec­tor, which along with most other agri­cul­tural indus­tries, has been ​"doing it hard over the last few years."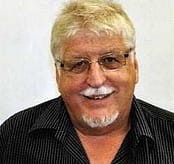 Peter McFarlane rec­og­nized
A Service to Industry Award was pre­sented to Peter McFarlane for his con­tri­bu­tion to both the Australian and South Australia olive asso­ci­a­tions.
​"Peter has been a valu­able con­trib­u­tor to the indus­try over many years, he's advised the indus­try on impor­tant issues as well as taken an active role in hands on projects" Rowntree said.
---