International bon­sai mas­ters recently esti­mated that South Africa-based Farouk Patel's old­est olive bon­sai is between 300 and 400 years old.
Patel, chair­man of the Durban Bonsai Society, shared the story of this bon­sai — a Japanese art form in which one grows very small trees that mimic the orig­i­nal trees' shape and scale. Together with other bon­sai mas­ters, Patel told Olive Oil Times more about the nature of olive bon­sai.
It has flow­ered and I have had fruit. But the fruit is very small – almost like a pea.
Explaining how the age of his old­est olive bon­sai was deter­mined, Patel said: ​"Looking at the diam­e­ter and growth gives you some indi­ca­tion."
"We have had many dis­cus­sions on the ages of trees in many forums, but the exact age can only be deter­mined by count­ing the rings on a trunk that is cut, as this exposes every year's growth," he added.
See Also:
Olive and Olive Oil Culture
However, cut­ting this olive bonsai's trunk to deter­mine its exact age is not an option.
"I hope it will sur­vive for a few thou­sand years with the cor­rect care," Patel said. ​"As they [olive bon­sai] are very hardy."
Patel's olive bon­sai is an indige­nous wild olive tree known as olien­hout.
"It has flow­ered and I have had fruit," Patel said. ​"But the fruit is very small – almost like a pea." He said that even though these olives are edi­ble, ​"they don't have too much flesh."
Olive trees are an ​"excel­lent" choice for cre­at­ing bon­sai, accord­ing to Patel.
"I would put it with the top bon­sai species, like the pines and junipers that the Japanese revere so much," he said. ​"Olives have char­ac­ter, and the leaves reduce very well. The older trees can have amaz­ing dead­wood and shari."
A shari is a sec­tion of trunk with no bark.
Patel added that olive trees are hardy and do not require con­stant atten­tion.
"Even a lit­tle bit of neglect shouldn't be too much of a prob­lem," he said.
Patel has been cre­at­ing bon­sai for 35 years and owns around 1,500 of these minia­tures. He believes olive trees are also a good choice because they can be wired and designed into many styles.
"You could use good nurs­ery stock," he said. ​"Or col­lect in the wild – with the proper per­mis­sion of course."
Patel added that because olive trees are slow-grow­ing, trees col­lected from nature have a unique char­ac­ter and age. Patel col­lected his old olive bon­sai from nature a few years ago.
"This was a col­lected tree some 12 years ago, so it's been in train­ing as a bon­sai for the last 12 years," he said. ​"It was grow­ing in the wild for all the years of its life prior to this."
It is a mis­con­cep­tion that bon­sai are all minute. Some bon­sai can be up to 80 inches tall and they can be cre­ated from full-grown trees that are pruned and then shaped to resem­ble ancient trees.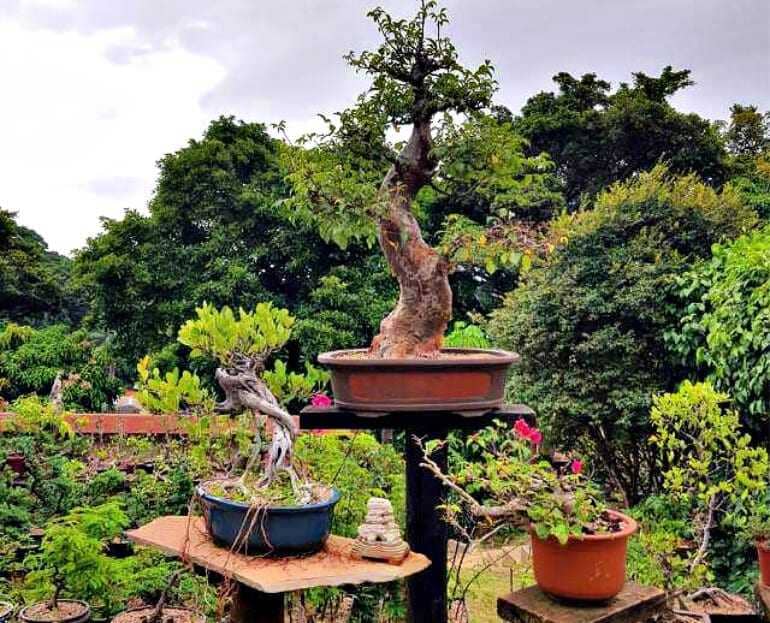 Asked at which point some­one gets known as a bon­sai mas­ter, Patel explained: ​"A bon­sai mas­ter is some­one whose knowl­edge and exper­tise is admired by his peers; and who has the abil­ity to inspire oth­ers to cre­ate bon­sai with age-old tech­niques, and is also able to bring in new vigor to the art."
Regarding the suit­abil­ity of olive trees for bon­sai, Neil Holley, a bon­sai mas­ter at the Durban Bonsai Society agreed with Patel that olive trees are a good choice for bon­sai
"Olives are highly sought-after for bon­sai," he said. ​"Their leaves reduce dras­ti­cally, and the wood is hard and takes carv­ing well."
Fellow-mem­ber of the Durban Bonsai Society, bon­sai mas­ter Shaun Murphy said olive trees are ​"excep­tional mate­r­ial" for cre­at­ing bon­sai. He mir­rored Holley's views on what makes olive trees a good choice.
"[It's] because of the hard­wood that can be carved to cre­ate the nat­ural appear­ance it would have in the wild," he said. ​"And the leaves reduce down to the size of a pea."
Murphy said the best place to get olive bon­sai was to col­lect from the wild or to pur­chase from some­one who has col­lected trees from the wild.
"Join a club so you can be tutored in the cor­rect way in design­ing a tree to get the best results," he con­cluded.
---
---