Consumers will one day be able to quickly choose among the food prod­ucts sold on super­mar­kets' shelves based on their envi­ron­men­tal impact.
Researchers in France have cre­ated the Planet-Score front-of-pack label (FOPL) that rates food items based on their farm­ing prac­tices and impacts on bio­di­ver­sity, ani­mal wel­fare and cli­mate change.
The cre­ation of such logos is essen­tial to inform the pop­u­la­tion, espe­cially because (the envi­ron­men­tal impact), depend­ing on the food, is less intu­itive for the gen­eral pub­lic than its nutri­tional qual­i­ties.
In a report sent to the French gov­ern­ment for eval­u­a­tion, the cre­ators of Planet-Score explained that the FOPL rep­re­sents a viable answer to the grow­ing inter­est shown by con­sumers regard­ing the impact of food pro­duc­tion on the envi­ron­ment.
See Also:
Pilot Project Will Test New Eco-Label for European Food Packages
The researchers hope that the new label will be adopted in France by the Ecological Transition Agency (ADEME), which recently put out a call for these types of labels to be cre­ated. Ultimately, the researchers hope the labels will be adopted through­out Europe.
While pre­vi­ous eco-labels have high­lighted the envi­ron­men­tal impact of a spe­cific prod­uct, Planet-Score will allow con­sumers to com­pare the dif­fer­ent envi­ron­men­tal impacts of dif­fer­ent types of food items.
For exam­ple, the researchers said a fruit juice could be com­pared to other fruit prod­ucts or dairy and meat prod­ucts.
"The cre­ation of such logos is essen­tial to inform the pop­u­la­tion, espe­cially because [the envi­ron­men­tal impact], depend­ing on the food, is less intu­itive for the gen­eral pub­lic than its nutri­tional qual­i­ties," Emmanuelle Kesse-Guyot, a nutri­tional epi­demi­ol­o­gist at the Sorbonne Paris Cité and the research direc­tor of the French National Agricultural Research Institute, told Olive Oil Times. She has not been directly involved in the devel­op­ment of Planet-Score.
According to its cre­ators at the French Institute of Organic Agriculture and Food (ITAB), for­mu­lat­ing the Planet-Score rat­ing sys­tem has been chal­leng­ing due to the com­plex­ity of all the data – sourced from the Agribalyse data­base – used to deter­mine the scores.
Previously using Agribalyse, ADEME clas­si­fied thou­sands of food prod­ucts based on their envi­ron­men­tal impact. However, ITAB offi­cials said some of its dataset char­ac­ter­is­tics have to be cor­rected to use in Planet-Score.
"To design a logo, it is nec­es­sary that the data used to build it is very robust and takes into account all the para­me­ters related to envi­ron­men­tal pres­sures," Kesse-Guyot said. ​"The cur­rent state of the sci­en­tific data allows very cor­rectly to con­sider the car­bon foot­print of diet. However, for other impacts, it is much more com­pli­cated."
ITAB is work­ing with Sayari and the Very Good Future research orga­ni­za­tions to re-frame the data avail­able from a broad set of sources and imple­ment new indi­ca­tors to deter­mine the aggre­gate score of food and pro­duc­tion sys­tems for Planet-Score.
According to Planet-Score's pro­po­nents, the cur­rent ADEME method­ol­ogy based on life cycle assess­ment does not suf­fi­ciently con­sider the wide range of ele­ments needed for such a label.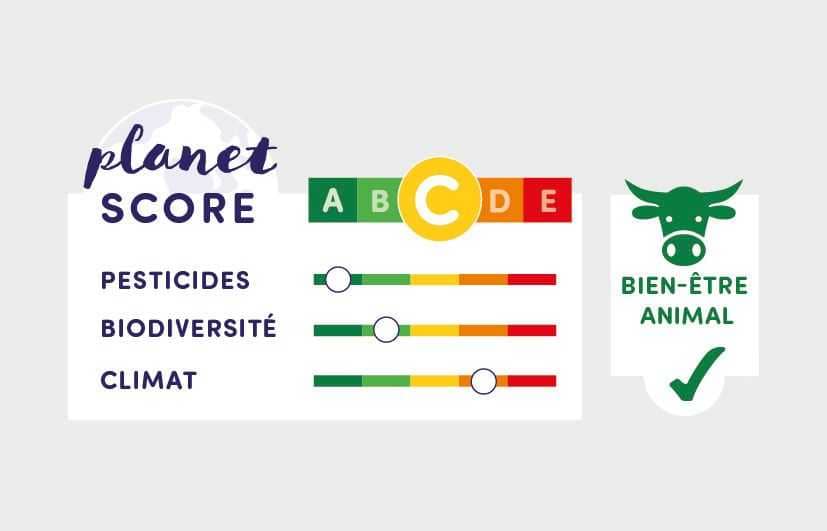 Among the most crit­i­cal issues in deliv­er­ing such a score is the rat­ing of food's impact on bio­di­ver­sity.
"Biodiversity is an issue that can­not be left aside, and cur­rent knowl­edge does not allow this notion to be linked to food," Kesse-Guyot said.
The ITAB researchers con­firmed that bio­di­ver­sity ​"is very poorly taken into account" by the cur­rent eval­u­a­tion approaches. Biodiversity's major dri­vers, explained the researchers, are habi­tat frag­men­ta­tion, cli­mate change, pol­lu­tion, over­ex­ploita­tion of species and inva­sive species.
The researchers wrote that the data needed to eval­u­ate a food item's Planet-Score prop­erly would also have to con­sider ani­mal wel­fare, pes­ti­cide use and waste gen­er­ated from food pro­duc­tion and con­sump­tion. All of those have to be inte­grated into the final homo­ge­neous rat­ing scheme.
Planet-Score will also present a sum­ma­rized rat­ing based on a five-let­ter col­ored scheme, with the ​"Green A" rep­re­sent­ing the best score and the ​"Red E" the least one.
The idea of the new Planet-Score has been wel­comed by some Italian olive oil pro­duc­ers, many of whom have pre­vi­ously opposed other label­ing schemes, such as the Nutri-Score. Created in France and now used in sev­eral European coun­tries, Nutri-Score is a FOPL focus­ing on the nutri­tional pro­file of food rated with an A‑to‑E col­ored scale label.
Organic olive oil is likely to receive a high rat­ing from Planet-Score as olive trees are very effec­tive at seques­ter­ing car­bon diox­ide and tra­di­tional olive groves may be cul­ti­vated to restore bio­di­ver­sity to cer­tain habi­tats.
"We wel­come all poli­cies that can help guide and edu­cate the con­sumer towards con­scious choices which can defend the planet," said Anna Cane, pres­i­dent of the olive oil group within the Italian Association of the Oil Industry (Assitol).
However, she added that ​"we must make sure that a new poten­tial FOPL can be eas­ily under­stood by the con­sumer and that the rules it is based on are har­mo­nized among the inter­ested coun­tries."
"If that were not to hap­pen, we could gen­er­ate con­fus­ing labels, which already hap­pens with other food logos that cre­ate more com­plex­ity for oper­a­tors while not ful­fill­ing the goals to which they were directed," she con­tin­ued.
Kesse-Guyot said that an addi­tional chal­lenge is intro­duc­ing Planet-Score with an inclu­sive approach, given the com­plex­ity of the data involved and the dif­fer­ent robust­ness of the datasets used to deter­mine such a score.
"For the imple­men­ta­tion of such logos, it is cru­cial it should not be done too quickly at the risk of leav­ing out the less doc­u­mented ele­ments," she said.
However, Planet-Score already has been wel­comed by sev­eral non-gov­ern­men­tal orga­ni­za­tions and envi­ron­men­tal groups.
On its web­site, ITAB researchers high­light how their pro­posal is to be con­sid­ered a first step. They hope the French and the inter­na­tional sci­ence com­mu­nity will help fur­ther develop the score to achieve a ​"sus­tain­able food tran­si­tion."
"We con­sider Planet-Score a for­mi­da­ble tool to lead towards a more con­scious approach to the whole ecosys­tem of farm­ers, pro­duc­ers, trans­form­ers and dis­trib­u­tors," ITAB researchers con­cluded.
---
---