Extra vir­gin olive oil's renowned health ben­e­fits and organolep­tic qual­i­ties degrade over time. Several fac­tors play impor­tant roles in deter­min­ing its shelf life.
The antiox­i­dants present in EVOO allow it to retain its high-qual­ity even after many months of being bot­tled.
In some cases, the most well-made EVOO remains ​'extra vir­gin' for up to two years after being pack­aged.
Although, in other spe­cific cases, degra­da­tion might occur in a mat­ter of months. As a result, choos­ing the health­i­est and most deli­cious extra vir­gin olive oil from the super­mar­ket shelf requires a few basic insights.
Look at the light
Light is the num­ber one enemy for any pack­aged extra vir­gin olive oil. The more a pack­age of EVOO is exposed to light, the more its con­tent will lose its health ben­e­fits and fla­vor pro­file.
The antiox­i­dants that keep the oil fresh will rapidly degrade, and, in just a few months of light expo­sure, the oil may even become ran­cid. This hap­pens because light acti­vates the chloro­phyll, the green pig­ment that can be found in almost all plants and a large num­ber of plant-derived prod­ucts.
The antiox­i­dants in EVOO pro­tect the prod­ucts from degrad­ing for long peri­ods, but they are pow­er­less when con­fronted with direct light expo­sure.
See Also:
How to Store Extra Virgin Olive Oil at Home
"Even for EVOO, polyphe­nols, antiox­i­dants do not shield from pho­toox­i­da­tion," Maurizio Servili, a food sci­ence and tech­nol­ogy pro­fes­sor at the University of Perugia, told Olive Oil Times.
"They do com­bat rad­i­cal-sub­sti­tu­tion processes of fat sub­stances, but the pho­toox­i­da­tion reac­tion gets over that, and ran­cid­ity comes from chloro­phyll," he added.
This means that trans­par­ent bot­tles con­stantly exposed to light will not remain ​'extra vir­gin' for more than just a few weeks. Unfortunately, this will be the case for many oils stored in clear bot­tles on super­mar­ket shelves.
Even dark green bot­tles will not entirely pre­vent the light from reach­ing the prod­uct and alter­ing its chem­i­cal pro­file.
"On-shelf pack­ag­ing and expo­sure is a pri­mary issue for extra vir­gin olive oils and olive oils, in gen­eral," Servili said. ​"Photooxidation acts quite rapidly, and degrad­ing occurs much faster when com­pared to what hap­pens in a com­pletely dark envi­ron­ment."
Choose the best pack­ag­ing
The solu­tion to pho­toox­i­da­tion lies in olive oil pack­ag­ing.
"We still find many olive oils sold in trans­par­ent bot­tles, oth­ers in green bot­tles with or with­out dark lay­ers," Servili said. ​"In real­ity, there is no sub­stan­tial dif­fer­ence between trans­par­ent bot­tles or dark green bot­tles."
"Those do pro­tect more, but only very par­tially," he added. ​"Neither are effi­cient and effec­tive, as some bot­tles might remain on a shelf for more than just a few weeks."
While many olive oils are cur­rently sold in trans­par­ent bot­tles, espe­cially when the sale is expected to hap­pen right after bot­tling, many pro­duc­ers are now choos­ing dif­fer­ent kinds of pack­ages to enhance olive oil shelf life.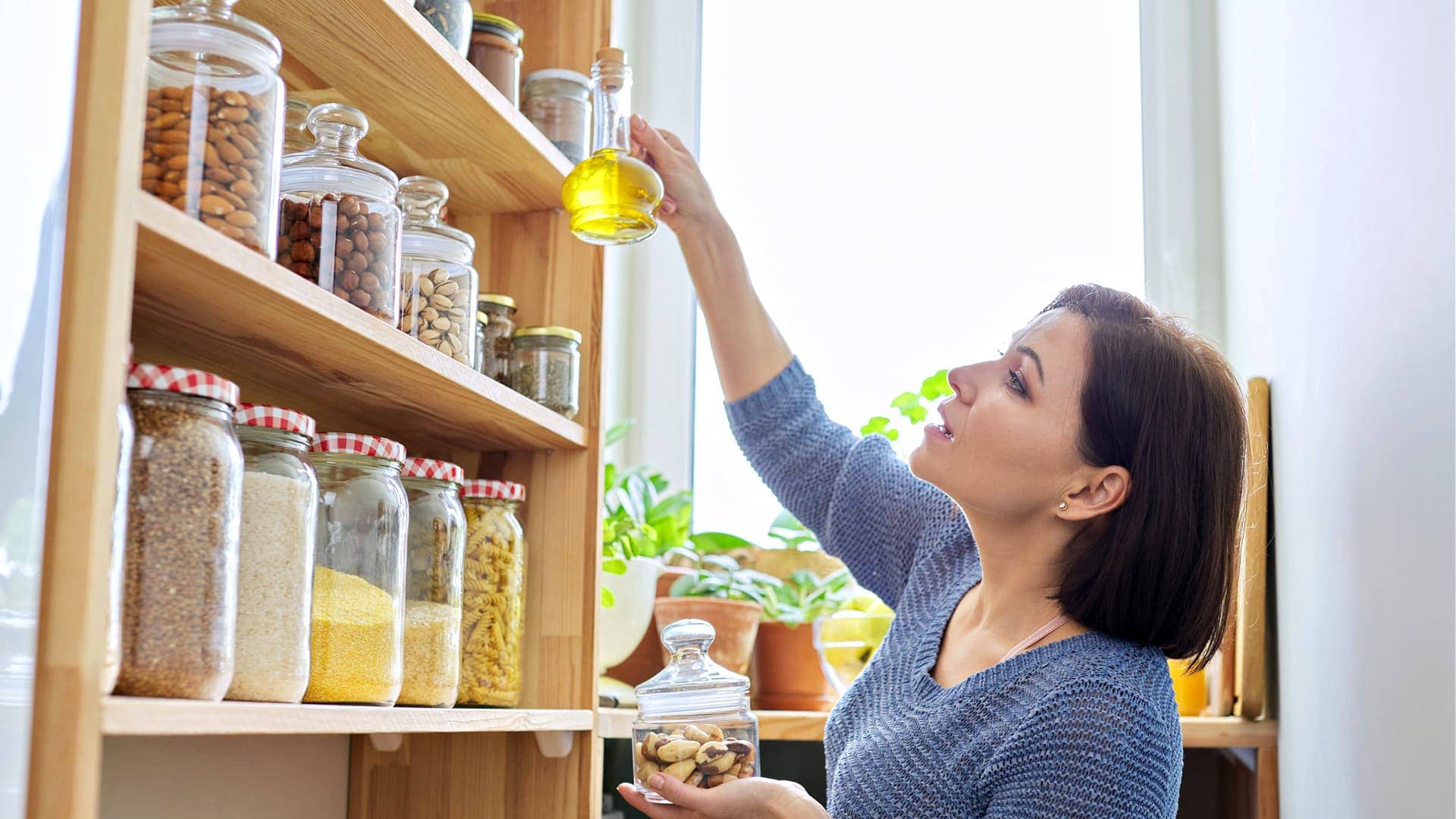 "The best solu­tion is light-shielded pack­ag­ing such as the com­mon and tra­di­tional tin cans. A Tetra-Pak will also do," said Servili, refer­ring to the com­monly-used card­board con­tain­ers coated with alu­minum and other sub­stances such as food-safe poly­eth­yl­ene.
Other solu­tions include bag-in-box pack­ag­ing, which is increas­ingly used for liq­uid foods by the indus­try.
The prod­uct is stored in a high-qual­ity plas­tic con­tainer located inside a card­board box, pre­vent­ing light expo­sure. Ceramic bot­tles, which pro­duc­ers and pack­agers are increas­ingly choos­ing for their EVOOs, also effi­ciently pro­tect from light.
"Other pack­ag­ing pro­duc­ers might use includes com­pletely coated glass or inox steel con­tain­ers, which are prob­a­bly too costly," Servili said. ​"Other good solu­tions are those bot­tles encap­su­lated within a sec­ondary card­board pack­age that is still in the con­di­tion to shield all or most of the incom­ing light."
Read the labels
Many olive oil pro­duc­ers apply clear labels on their prod­ucts to inform con­sumers if the EVOO is fil­tered or unfil­tered, organic and what its polyphe­nol con­tent is.
Many con­sumers pre­fer the fla­vors of unfil­tered extra vir­gin olive oils, such as Olio Nuovo, which are usu­ally cloudy and opaque due to the pres­ence of solid resid­u­als and water from the milling process in the oil.
See Also:
The Essential Guide to Extra Virgin Olive Oil
However, this olive sed­i­ment and water in the oil affects how long the prod­uct will remain fresh. As a result, con­sumers more inter­ested in a prod­uct that will pre­serve its health ben­e­fits and fla­vor pro­file over time should seek out fil­tered olive oil.
The eval­u­a­tion of an EVOO shelf life also may par­tially be deter­mined by its organic or non-organic ori­gins, which, in some cases, can impact the over­all antiox­i­dant capac­ity of the prod­uct.
"Organic EVOOs often come from pro­duc­tion tech­niques that tend to enhance their phe­no­lic pro­file," Servili said. ​"In organic farm­ing, com­pa­nies, most of the time, har­vest their olives early to avoid sea­sonal pathogens, such as the olive fruit fly."
"In a given area and with the same olive vari­ety being har­vested, organic pro­duc­tion could yield more polyphe­nols than one which is not organic-based," he added, refer­ring to the usu­ally richer polyphe­nol and antiox­i­dant con­tent in early har­vested and trans­formed olives.
However, not all pro­duc­ers list their prod­ucts' phe­no­lic and antiox­i­dant pro­files. Still, polyphe­nols' hold on the actual shelf life of an EVOO might be cru­cial.
See Also:
Tips for Selecting High-Polyphenol Olive Oils
Antioxidants are among the most rel­e­vant EVOO micronu­tri­ents. Their impact on human health is well-known as a grow­ing amount of sci­en­tific research con­tin­ues to uncover more about them.
Along with endow­ing extra vir­gin olive oils with many health ben­e­fits, its antiox­i­dants also pro­tect them from degrad­ing while sig­nif­i­cantly extend­ing shelf life.
"Antioxidants are called antiox­i­dants because they sac­ri­fice them­selves to keep the oil fresh," Rob McGavin, the co-founder and chair­man of Boundary Bend, told Olive Oil Times. ​"When the oil comes under pres­sure from light, heat and oxy­gen, the antiox­i­dants just keep sac­ri­fic­ing them­selves."
"How long they take to dis­ap­pear depends on the oil's start­ing point and stor­age con­di­tions," he added. ​"So if you start with 1,200 parts per mil­lion, you're a long way in front. You've got a lot of antiox­i­dants there to pro­tect the oil for a lot longer."
Consumers look­ing for extra vir­gin olive oils of European ori­gin might also be helped by the cer­ti­fi­ca­tions on their labels. Many pro­duc­ers obtain E.U. offi­cial cer­ti­fi­ca­tion, such as Protected Designation of Origin (PDO), which con­firms the qual­ity of a prod­uct and its trace­abil­ity.
Such high qual­ity will more often than not include an above-aver­age phe­no­lic con­tent while also pro­hibit­ing the pres­ence of lower qual­ity olive oils in the final prod­uct.
Best-before date and dis­counts
Unfortunately, not all prod­ucts exposed on a shelf make it easy for con­sumers to under­stand when olive oils were pro­duced. For exam­ple, some pro­duc­ers may use the trans­for­ma­tion date (they likely say the press­ing date), bot­tling date or best-before date, all of which will sig­nif­i­cantly dif­fer.
If the best-before date is the only one avail­able, it is best to select extra vir­gin olive oils that are as far from this date as pos­si­ble.
"Most olive oils are mar­keted with a best-before indi­ca­tion equal to 18 months from pack­ag­ing," Servili said. ​"If the con­sumer finds an EVOO close to that date, let's say up to five months ear­lier, then they could prob­a­bly try to find a fresher bot­tle."
"Many in food shops do exactly the same with other prod­ucts, such as milk, when they reach beyond the first line of con­tain­ers to get the fresher prod­uct," he added.
See Also:
Cooking With Extra Virgin Olive Oil
However, the best indi­ca­tor of EVOO fresh­ness is the har­vest date, when the clock begins tick­ing for the degra­da­tion of the olives and hence the oil. Therefore, con­sumers should not select oils with a har­vest date more than 18 months old (some would argue 12 months to 24 months).
For lower qual­ity prod­ucts, such as vir­gin olive oils, degra­da­tion takes place much more quickly.
"Even within the extra vir­gin olive oil cat­e­gory, there are dif­fer­ences. It depends on the olive oil con­tents and the com­po­si­tion of the fatty acids," Servili said.
Special offers from super­mar­kets often allow con­sumers to pur­chase prod­ucts that are nor­mally not within their food bud­get range. These offers occa­sion­ally include extra vir­gin olive oils mar­keted by renowned brands. Still, they might require addi­tional con­sid­er­a­tions.
Servili warns that these dis­counted offers often include lower-qual­ity EVOOs or ones beyond their best-before date. Therefore, con­sumers should care­fully read the label of any dis­counted oil to see if it is worth the sav­ing.
Where to buy fresh extra vir­gin olive oil
Specialty food shops that deal directly with pro­duc­ers or importers are the best place to start when look­ing for fresh extra vir­gin olive oil.
The retail finder on the Official Guide to the World's Best Olive Oils makes it easy to find award-win­ning extra vir­gin olive oils near you or through online retail­ers.
---