At an awards cer­e­mony in Rethymno, Crete, Greece on March 12, win­ners of the 3rd Cretan Olive Oil Competition were announced. Intended to high­light the qual­ity of Cretan extra vir­gin olive oils, this third edi­tion of the com­pe­ti­tion impressed com­men­ta­tors for sev­eral rea­sons, includ­ing bet­ter qual­ity olive oil, more sam­ples, and a higher per­cent­age of organic olive oils sub­mit­ted com­pared to pre­vi­ous years.

It is our love for Crete that brings us here.
The win­ners for organic extra vir­gin olive oils (EVOOs) were Kardia Food's Diva and Cretan Mill's Agrelia Organic, tied for gold; Latzimas's Latzimas Bio, with sil­ver; and in a tie for bronze, Kostas Kalligiannis's Zero One Premium and Nutricreta's Organic Oleum of Sitia. The win­ning con­ven­tional EVOOs were Botzakis (Creta Oil) Olyssos, cap­tur­ing the gold; Terra di Sitia's Thema Extra Virgin Olive Oil, win­ning sil­ver; and in a three-way tie for bronze, Eftychis Androulakis's Pamako Blend Mountain EVOO, Cretan Mill's PDO Sitia, and Psarakis' Harvest EVOO.
Although the plan was to award just one gold, one sil­ver, and one bronze ​"Elea" (mean­ing ​"olive") award for the best con­ven­tional EVOOs and one of each for the best organic EVOOs, sev­eral extra awards were pre­sented because of a num­ber of iden­ti­cal scores. There were so many close high scores that hon­or­able men­tions were also awarded, reflect­ing the judges' opin­ion that an impres­sive num­ber of high-qual­ity Cretan EVOOs were sub­mit­ted, even in this dif­fi­cult har­vest year.
Vaso Savvaki of Botzakis told Olive Oil Times that Creta Oil was very proud of their Gold Elea award, which rec­og­nizes the exper­tise they have acquired and shared with their pro­duc­ers and the care they take with prompt cold extrac­tion and proper stor­age pro­ce­dures, as well as the invest­ments they have made in their olive mills and ​"one of the most mod­ern and inte­grated plants on the island of Crete." Savvaki added, ​"prizes that our com­pany won in inter­na­tional olive oil com­pe­ti­tions in the last three years fill us with strength to try even more to enhance the qual­ity of Cretan olive oil."
Cretan Mill's Maria Foule, who took home a Gold Elea for the Almpantakis family's organic EVOO and a bronze for their con­ven­tional EVOO, told Olive Oil Times, ​"We've been in olive oil pro­duc­tion for 150 years. We're a fam­ily busi­ness. We put love, pas­sion, and soul into what we do. We believe in com­pe­ti­tions; they help us show what we do and what we love." They export their EVOOs all over the world.
Babis Doukakis of Kardia Food explained that he was ​"full of joy" about their Gold Elea and wanted to ded­i­cate ​"the award to our extra­or­di­nary team who gave their very best." He believes ​"the spirit and courage to fail and the strength and dis­ci­pline to stand up and try it all over again is the main rea­son for DIVA EVOO's being val­ued in kitchens world­wide, with an empha­sis on the high­est totally flaw­less qual­ity — excep­tional fla­vor and taste that wows all with a com­po­si­tion from youth and matu­rity, fresh­ness and depth." Currently ​"eval­u­at­ing busi­ness part­ners to bring DIVA to the great peo­ple of the United States of America," Kardia Food is also ​"more than thrilled to par­tic­i­pate in the world's largest Olive Oil Competition in New York: NYIOOC 2017."
All but two of the top ten win­ners at this Cretan com­pe­ti­tion were mono­va­ri­etal Koroneiki EVOOs. Kardia Food's gold-awarded Diva is a mono­va­ri­etal Tsounati, while Androulakis's bronze-win­ning Pamako Blend Mountain EVOO com­bines Koroneiki and Tsounati olives. Androulakis, whose organic Pamako Monovarietal Mountain EVOO, an hon­or­able men­tion and close con­tender for a bronze, is also a mono­va­ri­etal Tsounati, told Olive Oil Times, ​"finally, all my efforts to raise Tsounati from the dead are rewarded." To make a great olive oil took him 40 nights with very lit­tle sleep, four years of efforts, and 42 exper­i­ments with tem­per­a­tures, malax­a­tion, crush­ing, decanter speeds, 2 olive mills, and 3 dif­fer­ent inert gasses.
Philipp Notter, an expe­ri­enced Swiss judge at this and other com­pe­ti­tions, as well as a con­sul­tant, researcher, and writer praised ​"the very atten­tive direc­tion of Eleftheria Germanaki and her staff" in Rethymno, Crete, which he found ​"absolutely pro­fes­sional and seri­ous." He also expressed great respect for ​"the guid­ance of the panel by Effie Christopoulou. It is a guar­an­tee of the high­est com­pe­tence for this event (and I think she is also one of the most com­pe­tent and expe­ri­enced per­sons world­wide)." He believes the Cretan Olive Oil Competition can help Crete ​"deal very, very care­fully with its great her­itage of olive oil."
Effie Christopoulou is a panel super­vi­sor and rec­og­nized chem­i­cal and organolep­tic trainer of the IOC as well as a chem­i­cal expert for the EU and the IOC. One of the pio­neers of the organolep­tic method back in 1982, she told the audi­ence about the competition's method­ol­ogy and com­pared this year's sam­ples with those from the last two years. Christopoulou was pleased to report that there had been an increase from 69 to 81 sam­ples sub­mit­ted from 2015 to this year and a marked improve­ment in the per­cent­age of sam­ples with a grade of at least 65, from 84.1 per­cent in 2015 to 98.8 per­cent this year. Now, she added, it is nec­es­sary to take mea­sures for Greek EVOOs to become bet­ter known in inter­na­tional com­pe­ti­tions.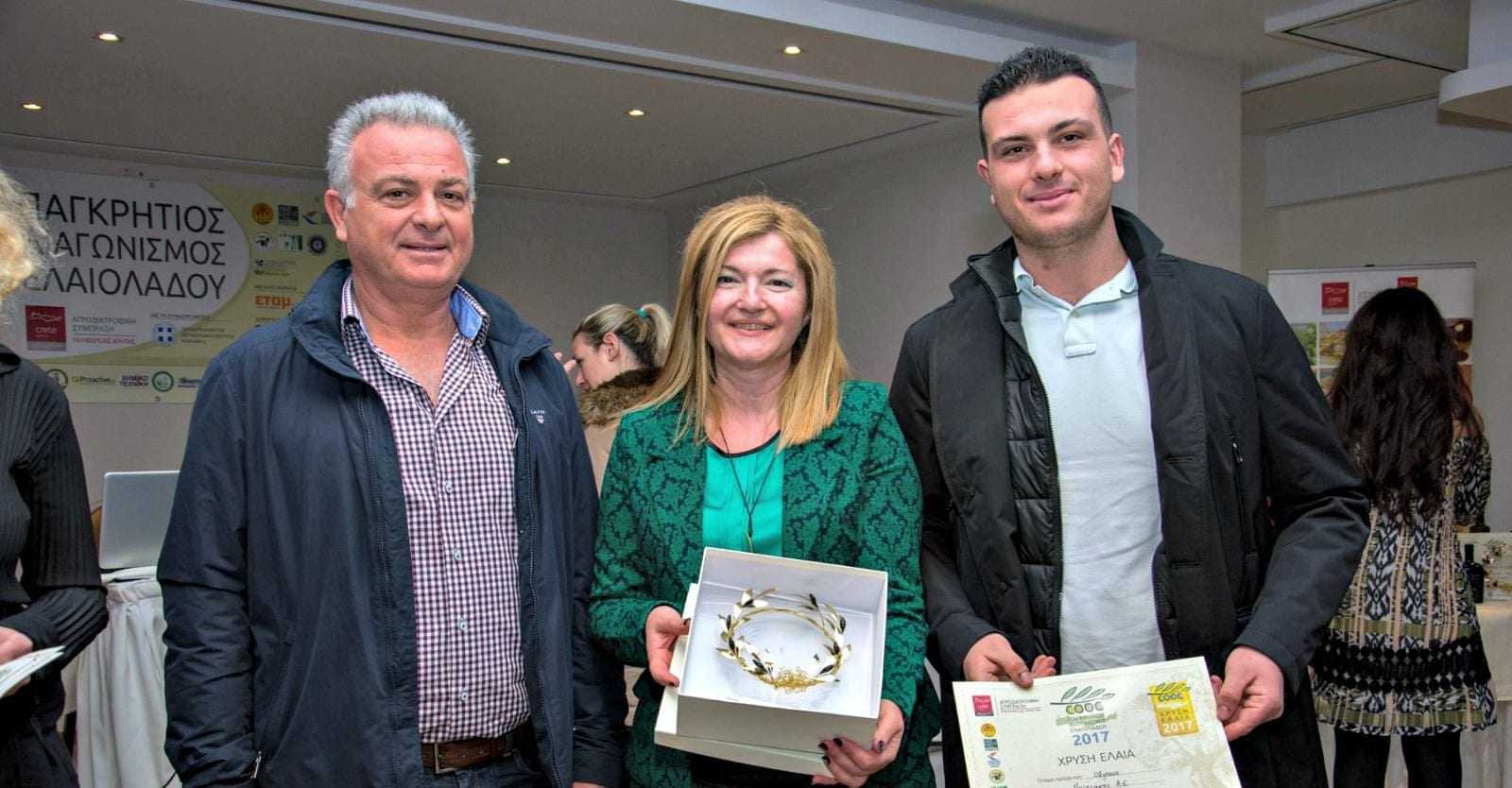 Italian agron­o­mist, olive oil cul­ti­va­tion expert, con­sul­tant, inter­na­tion­ally rec­og­nized judge, and 2014 NYIOOC panel leader Giuseppe Antonio Lauro was the other panel super­vi­sor for this com­pe­ti­tion. He gave a pre­sen­ta­tion about the impor­tance of var­i­ous forms of mar­ket­ing, empha­siz­ing con­sumers' inter­est in the story behind each prod­uct. Lauro told Olive Oil Times that he, too, was struck by the notable improve­ment in the qual­ity of Cretan olive oil since the first Cretan com­pe­ti­tion just three years ago; in spite of the dif­fi­cult har­vest year, this year's sam­ple ​"qual­ity was fan­tas­tic."
Before awards were pre­sented, the mayor of Rethymno and the gov­er­nor of Crete com­mented on the impor­tance of Cretan olive oil as an export that is rec­og­nized world­wide. Manolis Chnaris, pres­i­dent of the competition's main spon­sor, the Agronutritional Cooperation of the Region of Crete, called olive oil the ​"most impor­tant prod­uct on the island" and empha­sized the impor­tance of stan­dard­iz­ing more Cretan olive oil to give it ​"a strong iden­tity" so it would be more com­pet­i­tive in the inter­na­tional mar­ket, rather than being sold anony­mously in bulk.
Judge Philipp Notter said he was ​"proud to be here because in Crete you are in the his­tory of olive oil – at the roots," and ​"I respect the roots." Kardia Food's Babis Doukakis told Olive Oil Times that his com­pany intends to con­tinue infus­ing their olive oil ​"with a breath of our own spirit, cre­at­ing a vision of Crete the world joy­ously shares. It is our love for Crete that brings us here," to win a Gold Elea at the 3rd Cretan Olive Oil Competition.

---