The 2014 – 2015 har­vest year will go down in his­tory as one of the worst for olive farms in cer­tain regions hit hard by bad weather and a fruit fly run amok, but even through all of the chal­lenges of what some are call­ing the Annus Horribilis (the hor­ri­ble year), a remark­able num­ber of pro­duc­ers have tasted what flows from their mills this sea­son and believe they have man­aged to craft one the best olive oils in the world.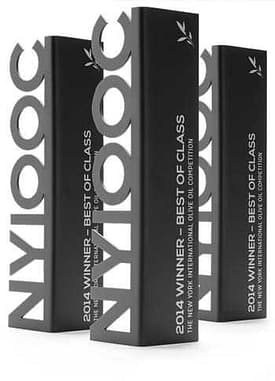 Organizers for the New York International Olive Oil Competition (NYIOOC), the world's largest and most pres­ti­gious olive oil qual­ity com­pe­ti­tion, say entries are pour­ing in at an even faster pace than last year, when a record 651 brands par­tic­i­pated. The event will be held April 13 – 15 at the International Culinary Center in New York.
NYIOOC pres­i­dent Curtis Cord cau­tioned against down­play­ing the dif­fi­cult year: ​"There are pro­duc­ers, par­tic­u­larly in Italy and Portugal, who have told us their sea­son was a total wash and they will have to wait until next year. At the same time we're see­ing more brands step up to the world stage for the first time to dis­tin­guish their prod­ucts in terms of qual­ity."
Indeed, with the pro­duc­tion short­fall push­ing prices for extra vir­gin olive oil higher and buy­ers more skep­ti­cal than ever about get­ting their money's worth, win­ning an award at the highly-pub­li­cized annual event means even more.
"It is the ulti­mate seal of approval," said Cord, refer­ring to the Silver, Gold and Best in Class award labels that each year adorn bot­tles of the win­ning brands. ​"Making one of the world's best olive oils is incred­i­bly dif­fi­cult. Those who man­age to do that deserve immense recog­ni­tion and the com­mer­cial suc­cess that goes with it."
The entries come from dozens of coun­tries and are blind-tasted over four days under strict pro­to­cols by a panel of experts from around the world. Last year, olive oils from Spain won the most awards, fol­lowed closely by Italian brands.
The results of the com­pe­ti­tion are broad­cast through media chan­nels world­wide and pre­sented on the web­site bestoliveoils.org, where details of the win­ners are indexed for chefs, food buy­ers and dis­cern­ing con­sumers in pur­suit of the year's high­est-qual­ity extra vir­gin olive oils.
Olive oil pro­duc­ers and dis­trib­u­tors can still reg­is­ter their brand on the com­pe­ti­tion web­site.