A three-party con­sor­tium seeks to assist young peo­ple in Greece to over­come uninvit­ing eco­nomic con­di­tions and be able to start a new busi­ness in the agri­cul­tural sec­tor.
Gaea, a Greek-based inter­na­tional food com­pany, Cat Cora, the Greek-American chef, and the Greek America Foundation, a non­profit orga­ni­za­tion, have cre­ated the ​"Re-inspir­ing Greece From the Youth Up" ini­tia­tive, aimed at moti­vat­ing and pro­vid­ing tan­gi­ble assis­tance to high school and uni­ver­sity grad­u­ates who want to become active and get involved in the food indus­try.
With more than half of the young peo­ple of Greece are cur­rently unem­ployed, and an alarm­ing num­ber who sim­ply leave the coun­try to look for bet­ter prospects abroad, the ini­tia­tive aspires to reverse the ten­dency to flee and enable at least some to get in touch with their her­itage and the pat­ri­mo­nial land.
Teams of one to a max­i­mum of five mem­bers can par­tic­i­pate in the process, which is designed to be quite sim­ple; par­tic­i­pants will visit the www.reinspiregreece.com web­site, where they will be able to sub­mit their ideas in the form of a busi­ness plan for a new startup enter­prise in the agro-food sec­tor. The busi­ness plan has to con­tain var­i­ous types of infor­ma­tion, such as a descrip­tion for the new busi­ness and the prod­uct, its sig­nif­i­cance to the agri­cul­tural sec­tor, a mar­ket and a com­peti­tor analy­sis, finan­cial plans and time­lines.
After sub­mis­sion, the plans will be eval­u­ated by a com­mit­tee con­sist­ing of experts in the food indus­try, and the agri­cul­tural and the busi­ness sec­tors of Greece. Ten of the sub­mis­sions will be cho­sen and awarded a prize con­tain­ing all of the fol­low­ing:
A seed cap­i­tal of €25,000 from Gaea Products S.A.
The option for another €25,000 from Piraeus Bank as a low inter­est loan
A close part­ner­ship with Gaea, with its 17-year exper­tise in the field
Access to Gaea's dis­tri­b­u­tion net­work in 27 coun­tries around the world
Access to the exten­sive knowl­edge and exper­tise of the American Farming School of Greece in Salonika and also access to the legal and finan­cial advice of RSM International Chartered Accountants
.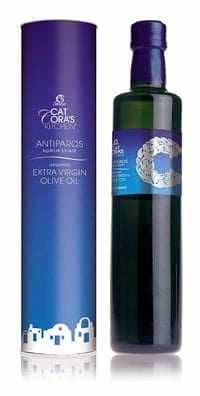 The project will be funded with sales of the ​"Antiparos Agrilia Estate" olive oil sold by ​'Cat Cora's kitchen, and made by Gaea exclu­sively for the U.S. mar­ket. This organic olive oil is being pro­duced on the tiny island of Antiparos at the Aegean Sea from Koroneiki. The grove is sit­u­ated on the island's slopes and the micro­cli­mate of the area with the sea breeze con­tribute to the oil's extra­or­di­nary organolep­tic attrib­utes and unique sen­sory pro­file. It tastes greenly fruity with a bit­ter after­taste and it has an acid­ity of no more than 0.3 per­cent.
Given the lim­ited pro­duc­tion, only 19,300 half-liter bot­tles will be avail­able for sale.
Gaea is inter­na­tion­ally known for its olive oil, olives, tape­nades and cook­ing sauces. Cat Cora teamed up with Gaea in 2011, to help make healthy Mediterranean – styled food avail­able world­wide.
Originality, extro­ver­sion, envi­ron­men­tal con­cern and good team work are the cri­te­ria for the plans to be selected for the prizes. The dead­line for sub­mit­ting the busi­ness plans is the June 30, 2013. The eval­u­a­tion by the com­mit­tee will take place and the win­ners will be announced November 15, 2013.
---