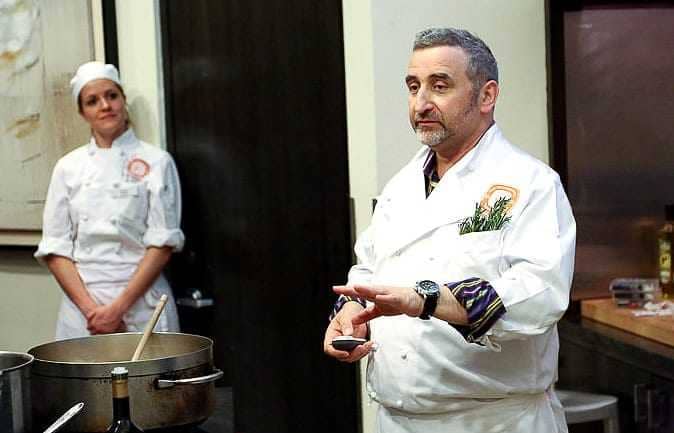 Chef Cesare Casella, Dean of Italian Studies at the International Culinary Center makes a risotto for the atten­dees of the New York International Olive Oil Competition Thursday
After another day of infor­ma­tive olive oil sem­i­nars and lec­tures and a press con­fer­ence to announce the win­ners of the New York International Olive Oil Competition, the pro­gram closed with an awards gala at the International Culinary Center.
A packed house of 100 guests enjoyed a delight­ful olive oil-inspired menu. Tables were dec­o­rated with many of the inno­v­a­tive olive oil pack­ag­ing designs to be judged later this month by a top New York design firm.
Event orga­nizer Curtis Cord opened the gala con­grat­u­lat­ing the many win­ners, but also those who did not receive prizes this year. ​"Whether small or big, an olive oil pro­ducer, by def­i­n­i­tion, has an emo­tional attach­ment to his prod­uct. Making qual­ity extra vir­gin olive oil is a labor of love. Too often, the rewards go lit­tle beyond that, because most peo­ple out there don't know what we do about the value of a great olive oil," he said.
"By enter­ing the New York International Olive Oil Competition each one of these pro­duc­ers is say­ing ​'I think my olive oil is one of the best in the world' and that ded­i­ca­tion alone deserves an award."
Cord praised the hun­dreds of entries that made the com­pe­ti­tion an unprece­dented one, thank­ing his spon­sors, the host venue, and the olive oil pro­duc­ers who work ​"in heroic pur­suit of per­fec­tion."
Retelling the story of first meet­ing Dr. Gino Celletti, who pas­sion­ately led an expert panel of judges in their tire­less tast­ing of hun­dreds of vari­etals, Cord thanked him for con­tribut­ing his exper­tise to the com­pe­ti­tion.
Cord ended by thank­ing all pro­duc­ers and pro­gram par­tic­i­pants for con­tribut­ing to the knowl­edge and the gen­eral aware­ness of the impor­tance of olive oil, which he called ​"a mat­ter of world health."
Dorothy Hamilton gave the program's final remarks, again prais­ing Cord for his ​"vision," and wish­ing the com­pe­ti­tion many more excit­ing edi­tions in New York.
The fes­tiv­i­ties at the International Culinary Center went late into the evening, as the large group of new friends in the olive oil indus­try, mer­chants, dis­trib­u­tors, edu­ca­tors, and win­ning pro­duc­ers cel­e­brated a week spent pay­ing trib­ute to an ancient and pow­er­ful food.