As Croatian olive grow­ers wind up the har­vest sea­son, many are attribut­ing their lower crop yields to the hot and dry sum­mer of 2017.
After a cold and dry win­ter in many parts of Croatia, an early spring brought the early bloom­ing of olive blos­soms in many regions. This was fol­lowed by a hot and dry sum­mer sea­son with drought-like con­di­tions that pro­voked wild­fires in parts of Dalmatia along the south Adriatic coast.
All is cer­tainly not lost though, because pro­duc­ers are happy with their new batch of freshly-pressed oil and report that despite lower yields, oil qual­ity is even bet­ter than last year.
See Also:The Best Olive Oils from Croatia
​"We har­vested about 40 per­cent less than last year, but the qual­ity is superb," reported Roman Urbanija from his grove of close to 700 olive trees on the tiny Dalmatian island of Žižanj.
"The dry sum­mer fol­lowed a very dry win­ter and spring dur­ing which we had almost no rain. Our groves were car­peted with lit­tle dry olives that wilted and fell from the trees, while those that sur­vived were smaller than usual. But I must say that the qual­ity of the olive oil is again very high," he added.
Further south on the Pelješac penin­sula, Ivan Miloš is cel­e­brat­ing a good har­vest. ​"This year's har­vest was one of the best," he told Olive Oil Times. ​"Due to an extremely cold win­ter and then an extremely hot and dry sum­mer, we didn't have any prob­lem with dis­eases or the olive fly. So, even though we did have drought con­di­tions for a while, we got lots of rain in early September, just in time to refresh our olive trees. We started pick­ing on October 5th – which is quite early, and we fin­ished in a week. It's impor­tant to pick olives at the right moment so that we can get that per­fect bal­ance of fruiti­ness and robust­ness."
Meanwhile on the island of Krk in the North Adriatic, the Jud fam­ily started har­vest­ing two weeks ear­lier than last year, which had seen a par­tic­u­larly good har­vest. Iva Prendivoj Jud of Utla Olive shared some of the chal­lenges faced by pro­duc­ers on the island: ​"In our area there were very high tem­per­a­tures at the time olive trees were blos­som­ing so many pro­duc­ers lost a lot of their crop. Then the biggest chal­lenge this sea­son was drought dur­ing the sum­mer. In our case, we have approx­i­mately 85 per­cent of last year's har­vest so the dif­fer­ence is not so big. But last year was an excep­tional har­vest year."
Producers in the neigh­bor­ing penin­sula of Istria have just about com­pleted their har­vests and are report­ing sim­i­lar results: quan­tity is down but qual­ity is up. Daniel Bellani of Terra Rossa reported that over­all it was a good year: ​"The sum­mer was hot and dry, but our red soil man­aged that very well. This year we har­vested 30 per­cent less than last year. But that is not crit­i­cal because last year was an extra­or­di­nary year. This year was again a nor­mal one and we had no prob­lems with viruses or insects."
A cer­ti­fied olive oil sen­sory expert, Bellani con­firmed that he's more than sat­is­fied with his fam­i­ly's new batch of fresh olive oil: ​"From the sen­sory point of view, the new olive oil is full of green and fresh aro­mas and it has much less bit­ter­ness and pun­gency com­pared to the last few years. I would even say that the old olive oil still has even more pun­gency and bit­ter­ness com­pared to the new one. We expect that the new oil will achieve a bet­ter grade for ​'har­mony.' This will give us an even bet­ter rat­ing at inter­na­tional com­pe­ti­tions."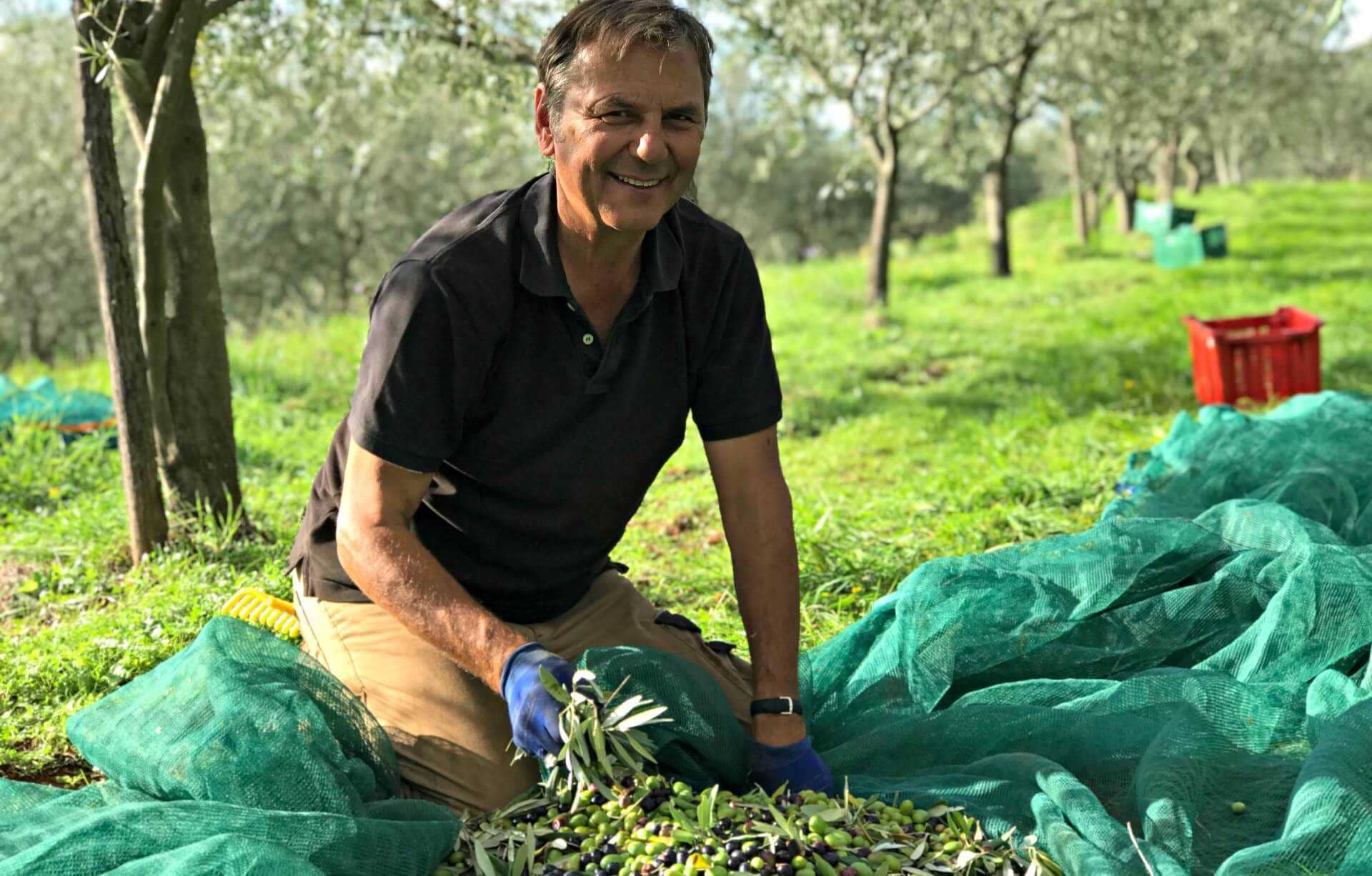 This past week­end, pro­duc­ers from across the region shared results and sam­ples of their freshly-pressed oil at the 13th edi­tion of the Festival of New Olive Oil in Vodnjan, where there was a record num­ber of exhibitors.
For some local pro­duc­ers, the three-day fes­ti­val pro­vided a break from the har­vest. ​"We're still har­vest­ing because we have to pick dif­fer­ent vari­eties at dif­fer­ent times," explained Silvano Puhar of Brist, whose oils are pop­u­lar with many gourmet chefs. ​"And I even pick some vari­eties twice: early and late, and then blend the oils together. Olives picked early are rich in polyphe­nols while those picked later have more of that bit­ter­ness that's so sought after."
Occupying one of the big­ger cor­ner stalls at the fes­ti­val were the Chiavalon broth­ers whose name­sake brand is one of the best-known of Croatia's many high-qual­ity olive oils. Their organic extra vir­gin olive oil is pro­duced on the fam­i­ly's farm in Vodnjan and shipped across the world to cus­tomers in the US, Japan, Singapore, Hong Kong and Taiwan.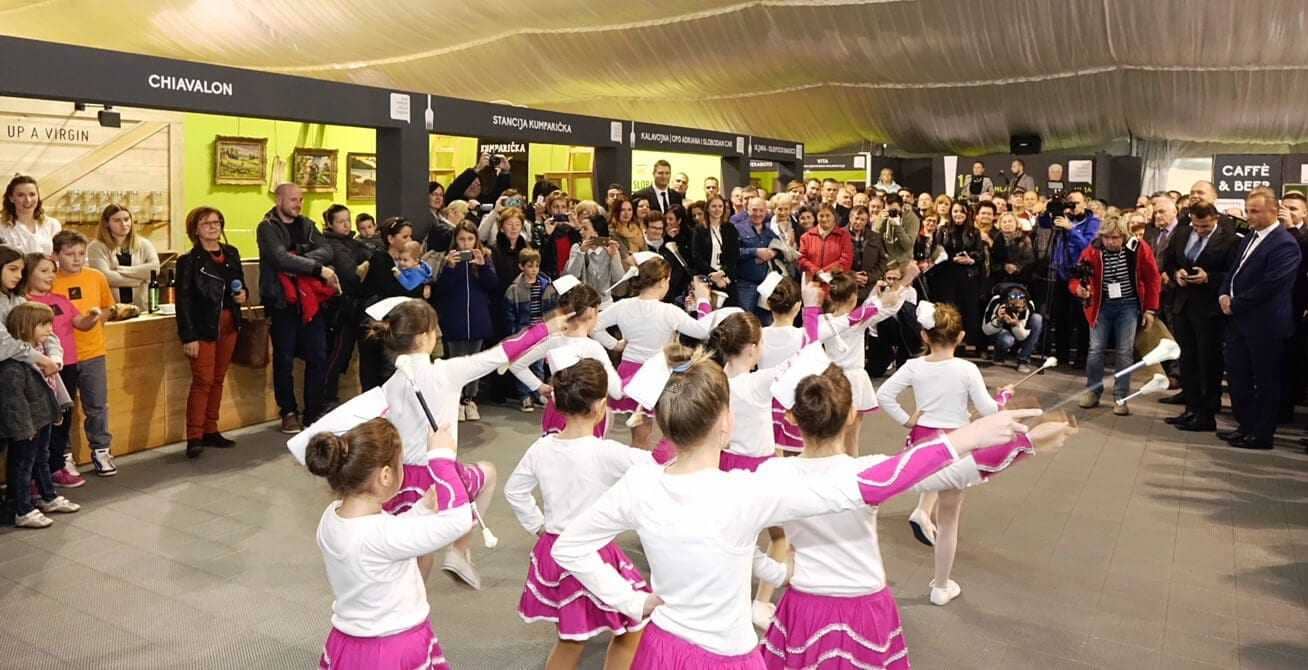 While Tedi poured tast­ing sam­ples of their fresh new oil, his brother Sandi revealed that yield is up by 15 to 20 per­cent com­pared to last year. He attrib­uted this to their younger trees that are pro­duc­ing a lot of fruit. ​"Thanks to the hot weather we did­n't have any prob­lems with pests like the dreaded olive fly," he added. ​"Usually dur­ing the sum­mer I check on our trees every other day, but I know that as soon as tem­per­a­tures climb over 37 (degrees Celsius) I can relax and head to the beach."
Overall, Croatian grow­ers have had a laid back sea­son and a pro­longed har­vest. Press arti­cles have reported that oil mills have not been work­ing around the clock like last year when the threat of pests pushed grow­ers to pick their olives as quickly as pos­si­ble. However, a new chal­lenge for many olive farms is the lack of man­power. Workers are increas­ingly hard to find and some pro­duc­ers have resorted to using mech­a­nized tools instead of pick­ing entirely by hand.
With the har­vest just about over and pro­duc­ers sat­is­fied with the high qual­ity of their freshly-pressed oils, the focus for many will now be apply­ing for inter­na­tional com­pe­ti­tions. Croatian olive grow­ers took home a record num­ber of inter­na­tional awards in 2017. Quantity may be down this year but this has not sac­ri­ficed qual­ity which will hope­fully bring more awards in 2018.

---