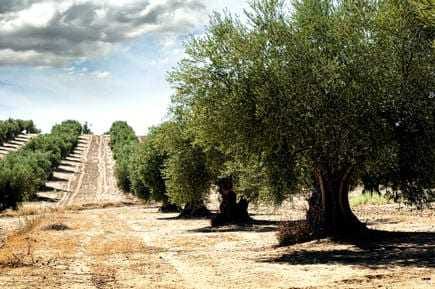 Spain's olive oil pro­duc­tion is down 62 per­cent for the first four months of this sea­son com­pared to the last one, accord­ing to the Olive Oil Agency (AAO).
Its lat­est report shows out­put of just over 543,000 tons for October to January, com­pared to more than 1.4 mil­lion for the same period in 2011/12, when Spain set an all-time high in its har­vest.
Yield is also lower. At an aver­age of 18.04 per­cent for 3 mil­lion tons of olives, it is 2.7 points below last sea­son. But worse still for Spain, sales are down too, by 17 per­cent on last sea­son.
The fig­ure for January is still pro­vi­sional but sug­gests exports have slipped nearly a fourth on 2011/12 and 4 per­cent on the aver­age for the last four sea­sons, and by 14 and 9 per­cent in the case of domes­tic con­sump­tion. Spain's monthly aver­age for exports this sea­son is cur­rently just over 58,000 tons and for domes­tic con­sump­tion, 41,000 tons.
Imports, mean­while, have more than dou­bled. From October to January Spain imported 42,900 tons, com­pared to 18,800 for the same period a year ago and 13,500 in 2010/11.
Stocks at end January stood at 881,500 tons, 13 per­cent below the aver­age for the last four sea­sons and well under the 1.4 mil­lion of reserves Spain held at the same time last year.
The POOLred ex-mill ref­er­ence price for olive oil was €2.76/kg for the week to February 27, down from €2.81 a week before and €2.86 at the end of January, but still well up on €1.67/kg early last July when prices started to recover in Spain after sev­eral years at rock bot­tom.
In a mar­ket report last week, Olimerca mag­a­zine said sales had been damp­ened lately by expec­ta­tions of price rises in March.
"Boatloads of olive oil keep arriv­ing from Tunisia," it added, ​"and the rain of the last two months has been very good for the land, augur­ing well for a recov­ery in terms of bet­ter olive flow­er­ing in May."
Table olives
Table olive pro­duc­tion for the first five months of the 2012/13 sea­son (Sept-Jan) totals 479,940 tons, 8 per­cent less than at the same time last sea­son.
But unlike in the olive oil mar­ket, exports are up, by 14 per­cent, and total nearly 123,000 tons. Domestic con­sump­tion is also up, by 6 per­cent, account­ing for sales of nearly 73,000 tons.
Spain's table olive stocks at January 31 totaled 614,120 tons, down 10 per­cent on last sea­son.
Table olive mar­ket expan­sion in India
Spain has found grow­ing demand for its table olives in India, accord­ing to José Manuel Escrig, deputy direc­tor of Spain's Association of Table Olive Producers and Exporters (Asemesa).
In the association's February newslet­ter he reported that exports of Spanish table olives to India increased by nearly a quar­ter last year, com­pared to 2011.
In 2012, India imported just over 1.1 mil­lion kilos of Spanish olives, val­ued at more than €1.6 mil­lion, and mainly of the hoji­blanca vari­ety. Two thirds of the imports were black olives and more than half in sliced for­mat, with a quar­ter pit­ted, he said.
---