The award cer­e­mony of the sev­enth EVO International Olive Oil Contest (EVO-IOOC) took place in the enchant­ing scenery of the Aragonese Castle of Baia in Bacoli last month.
Several olive oil pro­duc­ers from around the world reached the heart of Campi Flegrei, to the west of Naples, to attend the event that con­cluded this year's edi­tion of the com­pe­ti­tion led by Antonio G. Lauro.
The com­ments of our expe­ri­ence tasters were quite unan­i­mous: over the last years, the qual­ity of oils has gen­er­ally improved.
"Not only is the num­ber of par­tic­i­pants increas­ing, but the qual­ity of the extra vir­gin olive oils improved," said Lauro, the com­pe­ti­tion's pres­i­dent, before intro­duc­ing all the final­ists and announc­ing the win­ners of the main awards: best of coun­try, best in class, and best inter­na­tional 2022 for the north­ern and south­ern hemi­spheres.
A total of 516 recog­ni­tions were handed out, includ­ing gold and sil­ver medals.
See Also:
Tuscan Producers Triumph at NYIOOC, Overcoming Late Frosts and Summer Heat
In the week pre­ced­ing the event, an inter­na­tional panel of 23 judges assessed 736 sam­ples, com­pris­ing 676 extra vir­gin olive oils and 60 fla­vored olive oils, from 26 coun­tries.
Most of the entries come from Italy, which accounted for 25 per­cent of the total. It was fol­lowed by Greece (16 per­cent), Turkey (15 per­cent), Spain (9 per­cent), and Brazil (8 per­cent).
"Some coun­tries par­tic­i­pated at the EVO-IOOC this year for the first time," man­ag­ing direc­tor Stefania Reggio said. ​"We have to say that the pro­duc­ers from these emerg­ing pro­duc­ing areas are doing a really great job in terms of qual­ity."
According to data col­lected by the orga­niz­ers, more than half of the extra vir­gin olive oils sub­mit­ted are mono­va­ri­etal, while blends rep­re­sent 46 per­cent of the total.
Olive oils with Protected Designation of Origin (PDO) or Protected Geographical Indication (PGI) sta­tus from the European Union account for 15 per­cent of total sub­mis­sions, and slightly more than 23 per­cent are cer­ti­fied organic.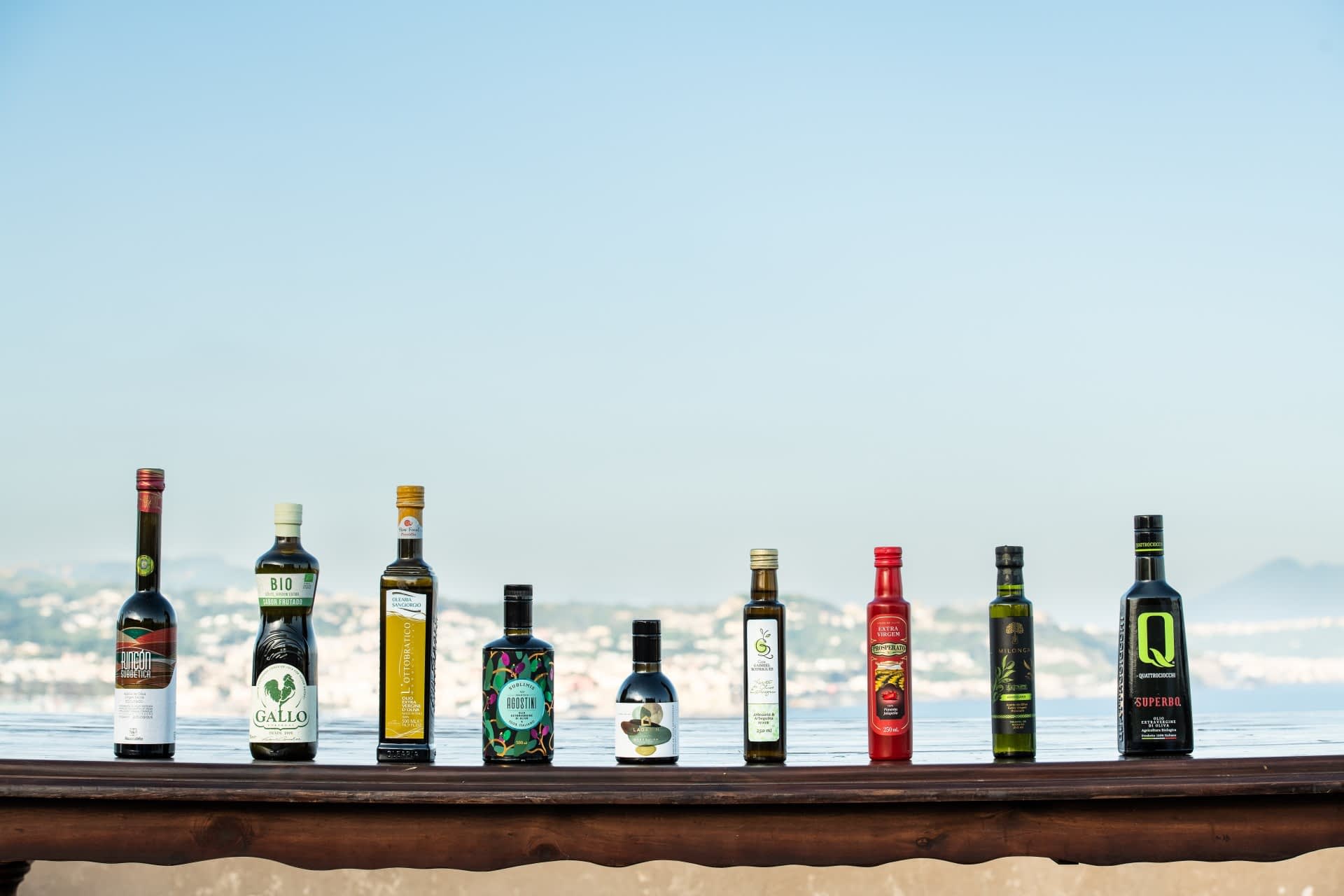 "Evaluating so many excel­lent prod­ucts was not an easy task," Lauro said. ​"The com­ments of our expe­ri­ence tasters were quite unan­i­mous: over the last years, the qual­ity of oils has gen­er­ally improved."
"I think this is the sign that the inter­na­tional com­pe­ti­tions raised the bar higher and higher, strongly con­tribut­ing to push­ing the pro­duc­ers at a global level towards excel­lence," he added.
Among the top win­ners was Superbo, a blend of Itrana and Moraiolo olives pro­duced in Lazio by Americo Quattrociocchi, which earned the best inter­na­tional award for the north­ern hemi­sphere.
The Brazilian farm, Azeite Milonga, won for the south­ern hemi­sphere with its mono­va­ri­etal of Arbequina.
"I am so pleased about this recog­ni­tion," owner Christian Vogt said dur­ing the awards event. ​"It was a big sur­prise since our com­pany was founded in 2019, and this was our first par­tic­i­pa­tion in a com­pe­ti­tion."
Receiving the prize, he recalled his first meet­ing with Lauro a few years ago at the Olive Oil Times som­me­lier course in New York.
"He was our teacher, I talked to him about the dif­fi­cul­ties of the Brazilian soil and our work in the grove, and he told me, ​'Go ahead, what you are doing is right and will give great results,' " Vogt said. ​"Those words of encour­age­ment have been ful­filled with this suc­cess."
The com­plete list of win­ners can be found on the EVO-IOOC web­site. The paper guide EVO-IOOC Edition 2022/23 will be pub­lished soon and avail­able for buy­ers, con­sumers, and extra vir­gin olive oil enthu­si­asts.
---