Italian sci­en­tist Silvao Gallus was recently awarded the satir­i­cal 2019 ​"Ig Nobel Prize" for Medicine for his research into the health ben­e­fits of pizza.
From this research, Gallus con­cluded that eat­ing pizza made with ingre­di­ents from the Mediterranean diet can pro­tect from some chronic dis­eases. Gallus, who is affil­i­ated with the Mario Negri Institute in Milan and the University of Maastricht, wore a pizza embla­zoned t‑shirt to the awards cer­e­mony at Harvard University's Sanders Theater.
We found that pizza con­sump­tion in Italy was pro­tec­tive for many chronic dis­eases that are known to be influ­enced by diet: diges­tive tract can­cers and infarc­tion.
The Ig Nobel Prize, which have been run­ning for 29 years, is a joint ini­tia­tive between the Annals of Improbable Research and Harvard University. All prizes are awarded for real achieve­ments and sci­en­tific research which, ​"makes peo­ple laugh and then makes them think."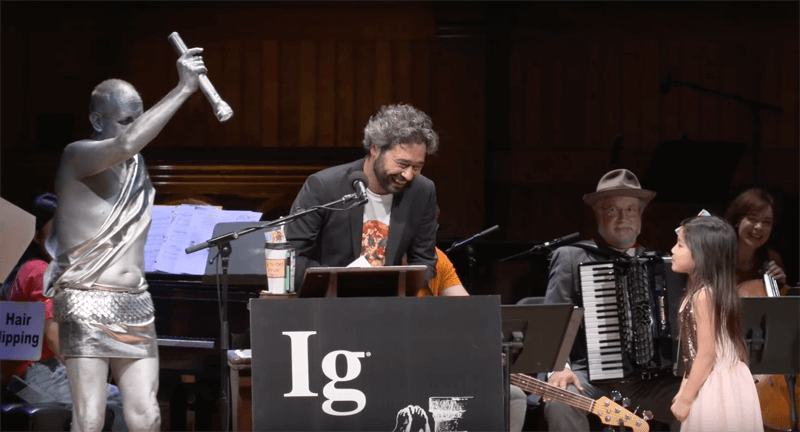 Gallus was delighted to receive his cer­tifi­cate, tro­phy and $10 tril­lion Zimbabwean dol­lars (which is no longer in use) from a gen­uine Nobel Laureate.
See Also:
Health News
"I am hon­ored to have obtained this achieve­ment for a bizarre but impor­tant award," he told a packed audi­ence. ​"A good pizza com­prises all the virtues of the Mediterranean Diet."
Before his accep­tance speech was, in cus­tom­ary fash­ion, cut short by a young girl wan­der­ing onto the stage com­plain­ing, ​"please stop. I'm bored." He man­aged to add, ​"we found that pizza con­sump­tion in Italy was pro­tec­tive for many chronic dis­eases that are known to be influ­enced by diet: diges­tive tract can­cers and infarc­tion."
Gallus, who heads the lab­o­ra­tory of lifestyle epi­demi­ol­ogy at the Istituto di Ricerche Farmacologiche Mario Negri, has led three stud­ies on the health ben­e­fits of pizza, which led him to con­clude that the iconic Italian dish warded off heart attacks and some forms of can­cer.
Gallus was adamant that the ingre­di­ents needed to be Mediterranean and not as he termed, ​"made accord­ing to for­eign inter­pre­ta­tions."
Enzo Coccia, a Neapolitan mas­ter pizza maker who runs a renowned pizza acad­emy and a cou­ple of restau­rants in Naples told Olive Oil Times he was delighted to hear of Gallus' Ig award.
"It is good news for Italian piz­zaioli because it could be a pulse to spread some typolo­gies of piz­zas made with these top­pings to pro­pose to cus­tomers," he said.
Coccia also said that although he had not met Gallus in per­son he was fully aware of the scientist's research into the health ben­e­fits of pizza and was look­ing for­ward to being intro­duced to him.
Coccia paid trib­ute to Gallus for con­tin­u­ing the work of Ancel Keys who first defined the Mediterranean diet and remained a strong advo­cate of it until his death at the age of 100 in 2004.
"Silvao Gallus has con­tin­ued the work of Ancel Keys on the Mediterranean diet, because in 2006 in research in the European Journal of Cancer Prevention, he wrote about the ben­e­fits of lycopene in tomato, antiox­i­dants in extra vir­gin olive oil, min­eral salts and vit­a­mins in some veg­eta­bles."
In 1958, Keys launched the pio­neer­ing ​"Seven Countries Study" which was one of the first to attribute the Mediterranean diet with improv­ing car­dio­vas­cu­lar health.
Coccia went on to dis­cuss the impor­tant role of olive oil in pizza mak­ing say­ing, ​"Extra vir­gin olive oil is fun­da­men­tal because it rep­re­sents a link between the ingre­di­ents that make the pizza. If I make a dish of dough (focac­cia) and put in it a light fruity oil with a del­i­cate scent and add oregano and gar­lic, I have cre­ated a mas­ter­piece."
In 2017, Neapolitan pizza twirling made head­lines when it was UNESCO World Heritage sta­tus and was added to the orga­ni­za­tion's Lists of Intangible Cultural Heritage.
In 2010, Naples Pizza was approved for a ​"tra­di­tional spe­cialty guar­an­teed" label rec­og­niz­ing it as a slice of Europe's food her­itage.
---
---