Dementia cases are expected to triple by 2050, accord­ing to a newly-pub­lished report in The Lancet med­ical jour­nal.
Researchers pre­dict that more than 153 mil­lion peo­ple glob­ally will be afflicted with the med­ical con­di­tion by the mid-point of the 21st cen­tury, up from 57 mil­lion peo­ple in 2019.
We need to reduce expo­sure to the lead­ing risk fac­tors in each coun­try.
Ageing and grow­ing pop­u­la­tions are largely attrib­uted to the pre­dicted rise in cases. However, the researchers added that unhealthy diets and lifestyle choices are also con­tribut­ing to the accel­er­a­tion.
See Also:
Olive Oil Health Benefits
"We pre­dicted that pop­u­la­tion age­ing and pop­u­la­tion growth will drive enor­mous increases in the num­ber of indi­vid­u­als affected by demen­tia both region­ally and glob­ally," the researchers wrote in the study, which inves­ti­gated the preva­lence of demen­tia in 195 coun­tries.
"The con­se­quences of these increases are com­pounded by the high soci­etal and mon­e­tary costs of the dis­ease," they added.
Dementia is cur­rently the sev­enth lead­ing cause of death glob­ally and a major cause of dis­abil­ity for peo­ple aged 70 years and older.
High-income coun­ties in East Asia and Western Europe, along with Australia, Argentina, Canada, Russia and the United States are pre­dicted to see the low­est increase in demen­tia, while its preva­lence is expected to increase rapidly – by as much as 2,000 per­cent in some cases – in parts of Africa, the Middle East and Central Asia.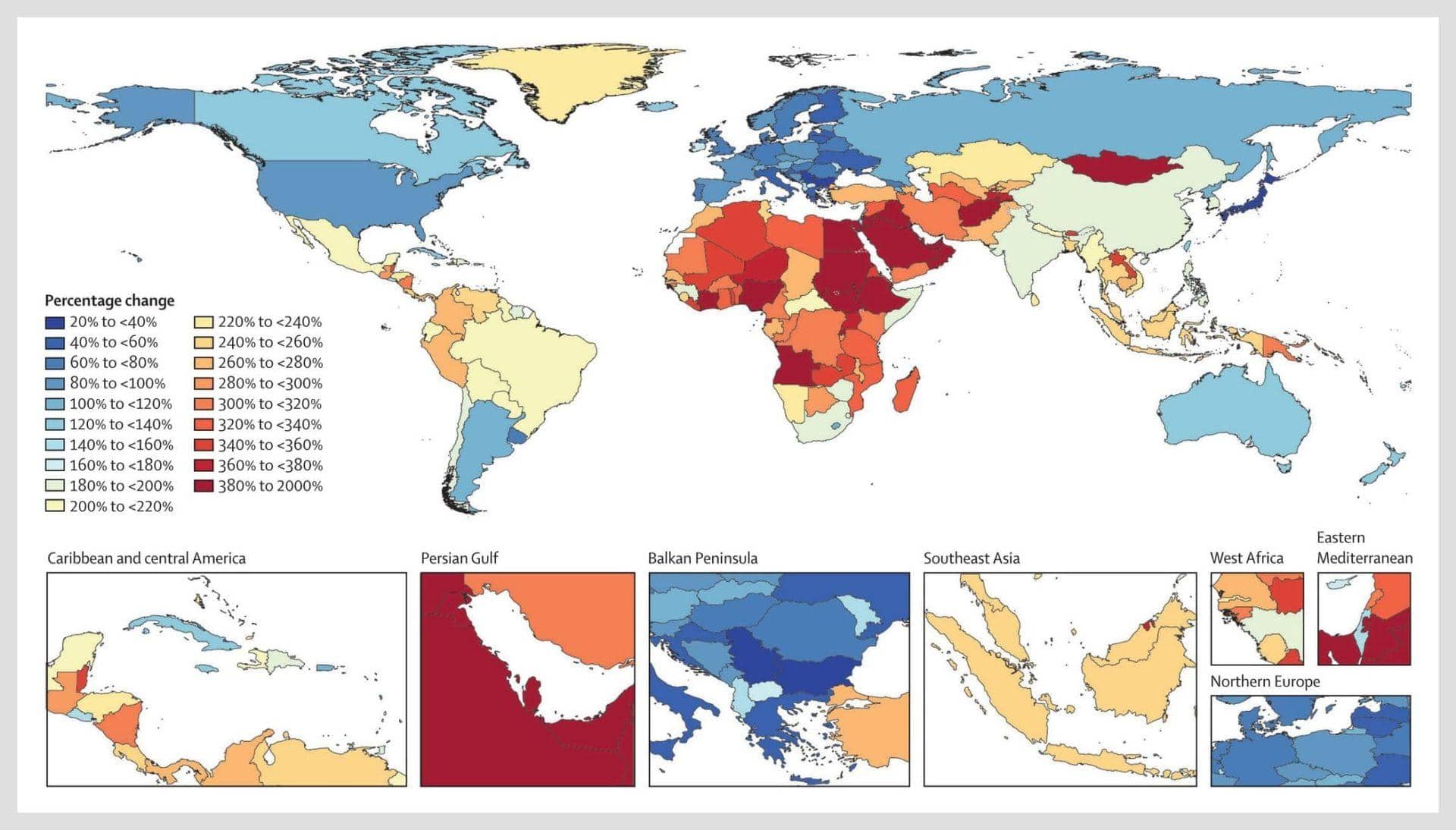 While there is no cure for demen­tia, a 2020 update to the Lancet Commission on demen­tia pre­ven­tion, inter­ven­tion and care esti­mated that 40 per­cent of demen­tia preva­lence may be pre­ventable.
The researchers also iden­ti­fied 12 mod­i­fi­able risk fac­tors for demen­tia. Individuals with car­dio­vas­cu­lar dis­ease, dia­betes and head injuries, along with those who are obese and smoke are at higher risk of suf­fer­ing from demen­tia.
Individuals with lower lev­els of edu­ca­tion were also observed to be at higher risk of demen­tia.
The researchers warned that the results of their study indi­cate a sub­stan­tially increased strain on global health sys­tems, espe­cially those in devel­op­ing and under­de­vel­oped coun­tries.
"However, inter­ven­tions that alter the expected trends in risk fac­tor preva­lence might reduce the expected future preva­lence of demen­tia," the researchers wrote.
Emma Nichols, the lead author of the study from the University of Washington's Institute for Health Metrics and Evaluation, told BBC News that pre­vent­ing and con­trol­ling risk fac­tors now ​"would pay remark­able div­i­dends."
"To have the great­est impact, we need to reduce expo­sure to the lead­ing risk fac­tors in each coun­try," she said. ​"For most, this means scal­ing up locally appro­pri­ate, low-cost pro­grams that sup­port health­ier diets, more exer­cise, quit­ting smok­ing and bet­ter access to edu­ca­tion."
Nichols told Olive Oil Times that the impacts of extra vir­gin olive oil con­sump­tion on reduc­ing the risk of Alzheimer's dis­ease and demen­tia had not been specif­i­cally stud­ied by the researchers.
However, a range of stud­ies have demon­strated that fol­low­ing the Mediterranean diet and con­sum­ing extra vir­gin olive oil is asso­ci­ated with improved mem­ory and cog­ni­tion in the elderly.
Separate stud­ies have found that the polyphe­nols in extra vir­gin olive oil – specif­i­cally oleo­can­thal – help to pre­vent the buildup of harm­ful plaque in the brain, which kills neu­rons and is asso­ci­ated with the onset of demen­tia.
Oleocanthal has also been shown to reduce inflam­ma­tion to cer­tain recep­tors in the brain that are linked with the devel­op­ment of Alzheimer's and other neu­rode­gen­er­a­tive dis­eases.
---
---