This year, Greek extra vir­gin olive oils (EVOOs) cap­tured 31 Gold Awards and 23 Silvers in a tough com­pe­ti­tion among an aston­ish­ing 1,000 entries from 27 coun­tries at the NYIOOC World Olive Oil Competition (NYIOOC). Several of the top Greek win­ners dis­cussed what their awards meant to them and how they man­aged to pro­duce such excel­lent EVOOs, show­cas­ing the mer­its of a num­ber of dif­fer­ent Greek cul­ti­vars.

It was my first year using a mod­ern cold press facil­ity. And the stel­lar results show it. It's a dif­fer­ent EVOO – there's no going back now.
The lead­ing Greek win­ner at the 2018 NYIOOC was Papadopoulos Olive Oil Mill, which took home four Gold Awards and one Silver. Konstantinos Papadopoulos told Olive Oil Times that he and his team ​"feel proud and happy about achiev­ing our goals." He explained this year's phe­nom­e­nal suc­cess as the result of lessons learned dur­ing the pre­vi­ous ​"really dif­fi­cult year," when bad weather reduced ​"the qual­ity and the quan­tity in Greece." Their response: per­sis­tence and care­ful atten­tion to detail, ​"focus­ing on the best meth­ods of cul­ti­va­tion and pro­duc­tion in our olive oil mill, result­ing in one of the high­est qual­ity extra vir­gin olive oils world­wide."
See Also:The Best Olive Oils from Greece
Papadopoulos Olive Oil Mill won Golds for Mythocia Chef's Exclusive and Mythocia Olympia PGI and a Silver for Mythocia Olympia PGI Organic — all medium inten­sity Koroneiki EVOOs — plus two more Golds for Omphacium (robust inten­sity) and Omphacium Organic (medium inten­sity) from the less com­mon Olympia vari­ety (also known as Nemoutiana, but renamed for their unique loca­tion near ancient Olympia).
Papadopoulos was pleased that his com­pany had suc­ceeded in ​"bring­ing to light the qual­ity char­ac­ter­is­tics of our region, ancient Olympia. It is some­thing that we have been try­ing to do for many years." They entered more EVOOs in the NYIOOC than in any other com­pe­ti­tion this year, seek­ing ​"recog­ni­tion of our prod­ucts with the guar­an­tee of this most rec­og­nized com­pe­ti­tion."
The team at Oliorama also pays ​"care­ful atten­tion to all stages of pro­duc­tion, with no com­pro­mise on qual­ity," demon­strat­ing ​"ded­i­ca­tion and per­sis­tence to reach our ulti­mate goal to be amongst the best in the world," accord­ing to Maria Spiliakopoulou. The result: two Gold Awards at the NYIOOC, one for Oliorama Exclusive PGI Olympia, a medium inten­sity Koroneiki, and another for the organic ver­sion, Oliorama Exclusive Bio PGI Olympia.
Another olive oil pro­ducer from the region of ancient Olympia, George Goutis, pointed out that ​"when you try hard, you look for recog­ni­tion among the best." He got it with a Gold Award for Goutis Estate Bitter Gray, a medium inten­sity Nemoutiana, and a Silver for Goutis Estate Fresh, a medium inten­sity Koroneiki. Goutis described a bet he made with a friend who worked as a phar­ma­cist in Germany and ​"decided to return to his moth­er­land, Greece and try mak­ing a good wine." His friend man­aged ​"to pro­duce one of the best wines in Greece." Goutis bet that he could ​"pro­duce one of the best EVOOs in Greece and — why not — around the world. I think that we both won the bet."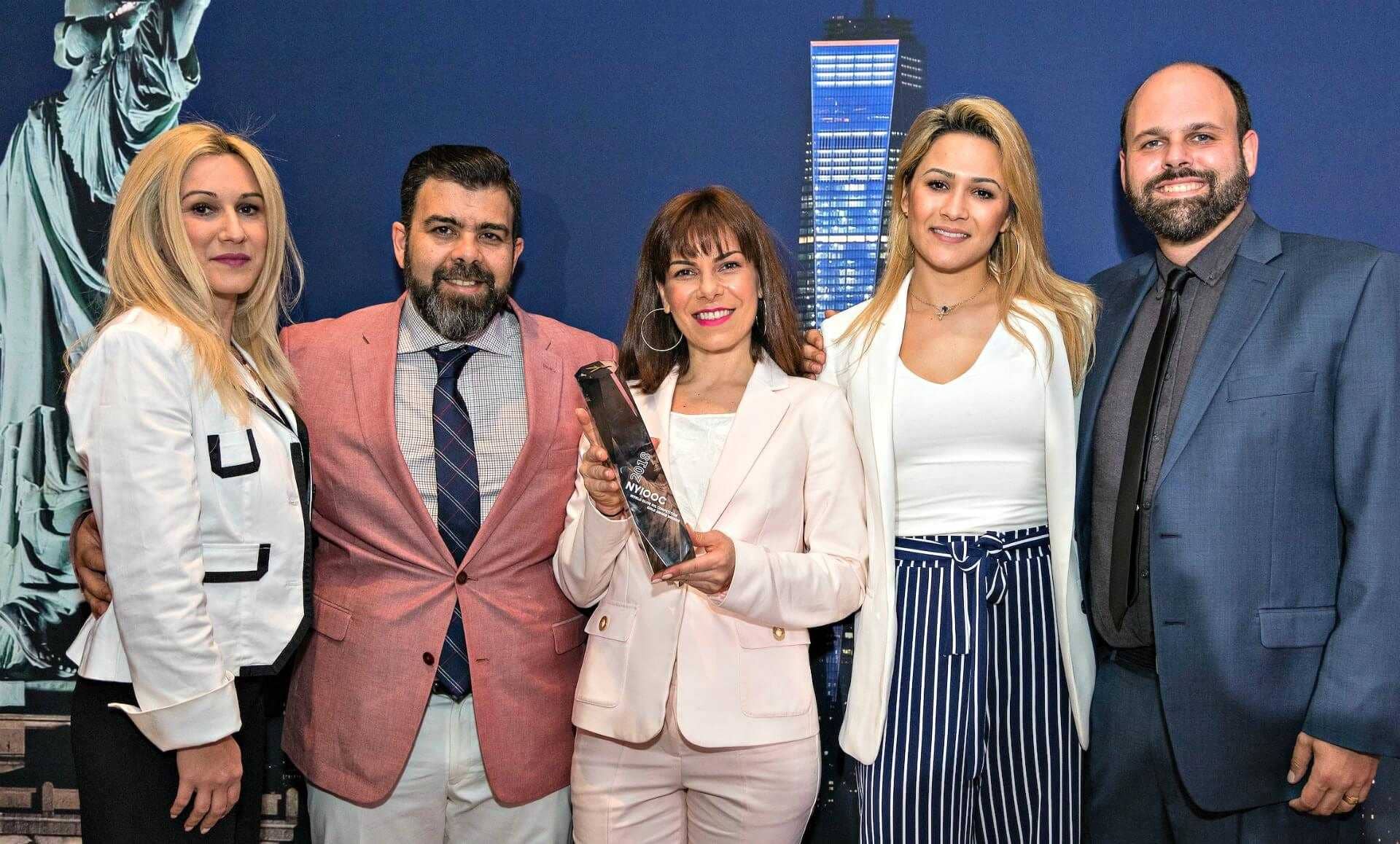 Dimitris Tsarpalis's par­ents lacked such aspi­ra­tions, sim­ply pro­duc­ing the family's olive oil in the tra­di­tional way. It was up to their son to learn the mod­ern meth­ods that yield higher qual­ity, and then con­vince the most open-minded farm­ers of Sparta to try new things. ​"There's a never-end­ing story, each time, to con­vince them to do it this way: don't use sacks, use bas­kets; don't leave it until tomor­row, no mat­ter how tired you are; go to the mill the same day." And har­vest at the begin­ning of October, as soon as the nearby mill opens, to max­i­mize the healthy phe­no­lic con­tent. Finally, the farm­ers agreed, with impres­sive results: most recently, Gold Awards at NYIOOC for Sparta Groves EVOO, a medium inten­sity Athinolia, and Sparta Groves Organic, a del­i­cate Athinolia.
"This was the result of count­less hours of plan­ning and hard work. Needless to say, I am both excited and hon­ored," said Konstantin N. Kokkolis on his web­site. The pro­ducer from Kefalonia who won a Gold Award for his Antheion brand added, ​"To be hon­est, it was my first year using a mod­ern cold press facil­ity. And the stel­lar results show it. It's a dif­fer­ent EVOO — there's no going back now. The olive in Kefalonia has a lot of poten­tial, and I believe this poten­tial is being reached and can get even bet­ter."
Considering her­self an olive farmer more than an exporter, Evi Psounou Prodromou of Yanni's Olive Grove has also learned all about mod­ern meth­ods. She believes ​"the best EVOO comes from pro­duc­ers who love their work, fol­low the International Olive Council's rules, and try to be hon­est."
Winning a Gold Award for Yanni's Finest, a medium inten­sity Wild Chalkidiki EVOO, and a Silver for Yanni's Family, a medium Galani of Chalkidiki, at the world's biggest olive oil com­pe­ti­tion, Prodroumou said they felt like they were at ​"the top of the world, and my hus­band Yannis said with a huge smile, ​'I am the king of the world,' like DiCaprio in the Titanic."
With a Gold Award for his Pamako Monovarietal Mountain Bio, a medium inten­sity Tsounati (Athinolia), Eftychios Androulakis is also proud to see his Cretan Tsounati among the best olive oils of the world. This used to be ​"a vari­ety that every­body thought can't even pro­duce extra vir­gin," he told us, espe­cially in ​"one of the worst years in Cretan olive oil," due to weather and insect prob­lems. ​"We over­came this."
For four years, Androulakis has been climb­ing his huge, remote moun­tain trees to har­vest their olives, then con­duct­ing exper­i­ments with refrig­er­a­tion of olives before milling, removal of their pits, use of argon gas, and much more.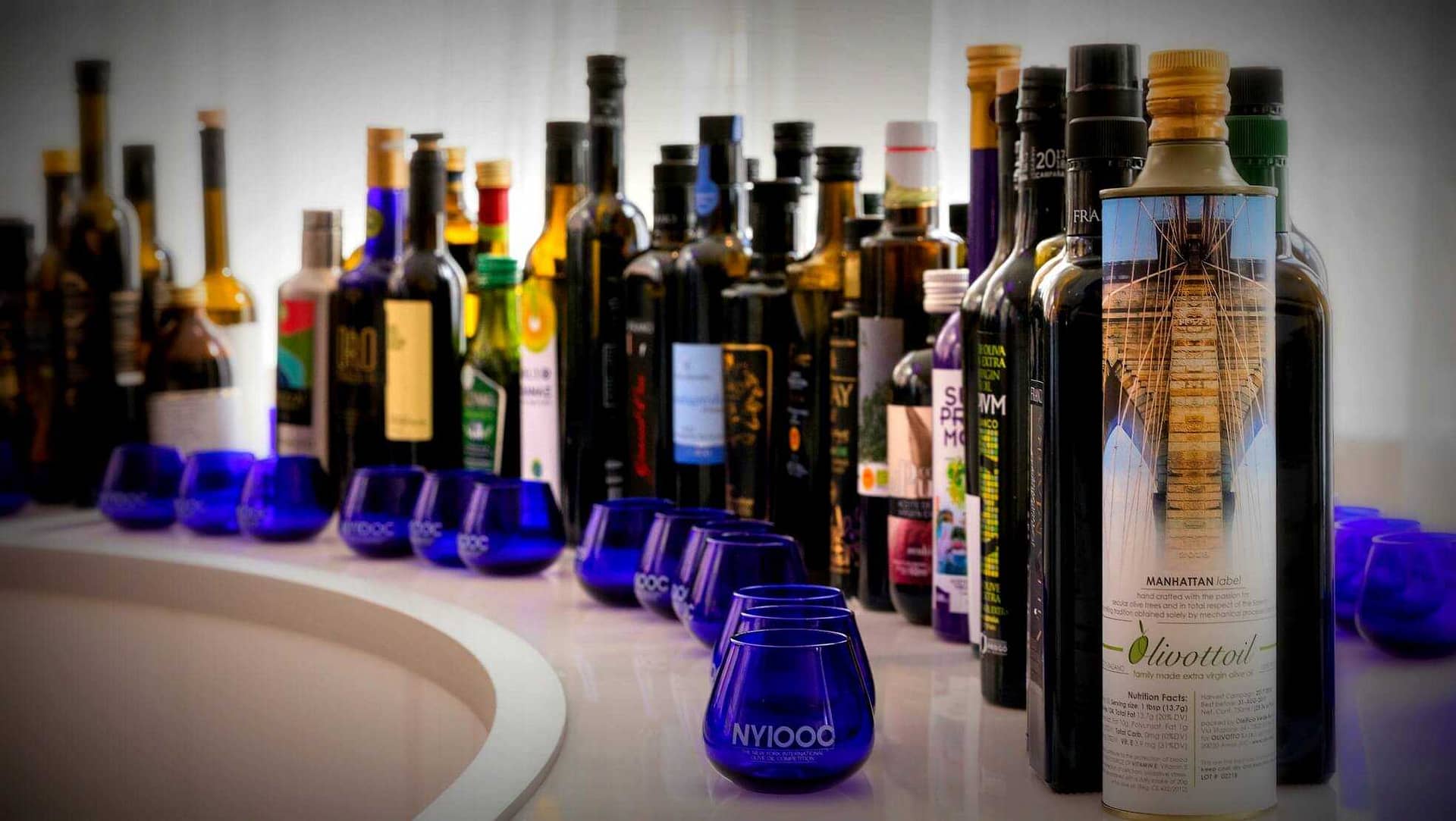 Winning NYIOOC Gold Awards three years in a row, this time for the medium inten­sity Kolovi ACAIA Organic, Ellie Tragakes said her team at Hellenic Agricultural Enterprises is pleased to have helped ​"pro­vide the Kolovi olive vari­ety native to Lesvos the inter­na­tional recog­ni­tion and appre­ci­a­tion it deserves," as their ​"efforts to pro­duce high­est qual­ity olive oils are con­sis­tently rec­og­nized by this pres­ti­gious com­pe­ti­tion."
Ioannis Kampouris of Elawon, pro­ducer of Gold Award-win­ning Elawon Green Fresh, a medium inten­sity Athinolia, seemed to echo oth­ers in say­ing ​"these medals give us life" and make ​"us want to work harder."
As Kampouris com­mented, many a Greeks claim the world's best olive oil comes from their own vil­lage (or region or olive vari­ety). In recent years, care­ful Greek pro­duc­ers like these NYIOOC win­ners have stud­ied mod­ern olive oil pro­duc­tion meth­ods and engaged in the seri­ous, per­sis­tent efforts nec­es­sary for claims about being one of the best to have merit for more than one vari­ety, vil­lage, and region in Greece.

---