They might be con­sid­ered friendly rivals as they belong to two dif­fer­ent worlds – the veg­etable and the ani­mal fat ones. But dur­ing the last edi­tion of Cheese – the big Slow Food event ded­i­cated to the dairy world held every two years in Bra, Piedmont – olive oil and cheese became closer.
Among the many work­shops and meet­ings about cheese and every­thing than can go along with it – from beer to cig­ars – extra vir­gin olive oil found its place. On Saturday, September 17th a taste work­shop was held by an olive oil and cheese expert, Cristiano De Riccardis.
The work­shop named Dairy Olives inno­v­a­tively paired fresh cheeses — Mozzarella di Bufala, Robiola di Roccaverano, Murazzano, French Goat Cheese and Feta – with Umbrian Terre Rosse extra vir­gin olive oil from Hispellum.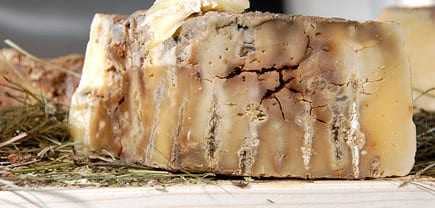 On Monday, September 19th, chef Davide Zunino of Olio Colto restau­rant in Taggia (Liguria) pro­posed an intrigu­ing match between cheese and extra-vir­gin olive oil in a work­shop at Banca del Vino in Pollenzo, not far away from the Slow Food Headquarters in Bra.
The pair­ings fea­tured an extra-vir­gin olive oil ravi­olo filled with Brigasca sheep's toma, a Red Leicester tartufo with extra-vir­gin olive oil brit­tle, goat's cheese with a rasp­berry and olive oil coulis and a sweet pesto jelly and pecorino with black olive mostarda — all made using extra vir­gin olive oil from the Boeri fam­i­ly's Roi oil mill.
The bien­nial inter­na­tional event orga­nized by Slow Food and the City of Bra, Italy was ded­i­cated to the many forms of milk. An esti­mated 160,000 vis­i­tors came to Bra dur­ing the four days of the event.
The var­i­ous ini­tia­tives orga­nized dur­ing Cheese 2011, like the open-air con­certs, the pro­gram of events at the Literary Café (all sold out) and the meet­ings in the Biodiversity Space, all raised funds for Slow Food's Thousand Gardens in Africa project.