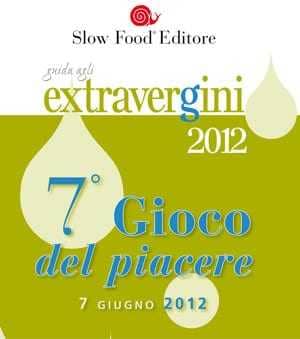 More than 2,000 par­tic­i­pated in Il Gioco del Piacere (the plea­sure game) on June 7th, the Slow Food event that for seven years has been involv­ing local groups to pro­mote extra vir­gin olive oil cul­ture.

The project started with wine, but now has moved on olive oil. So, in every region restau­rants, tav­erns and trat­to­rias hosted the annual meet­ing in which the pub­lic blind tasted and voted for their favorite extra vir­gin among four oils cho­sen from the Slow Food vol­ume Guida agli Extravergini 2012.
In every venue, peo­ple sam­pled the extra vir­gin olive oils with hid­den labels, and every bot­tle was marked with a let­ter or num­ber. Every par­tic­i­pant received an eval­u­a­tion form to judge the olive oils.
At the estab­lished times, the dif­fer­ent venues sent the Slow Food head­quar­ters in Bra (Piedmont) the scores for each oil. At the end of the evening, Slow Food announced the national rank­ing, with the exact score for every oil.
This year, the win­ner was the extra vir­gin olive oil Irè from Terre di Shemir farm (Trapani, Sicily) that scored 8,225 points.
The Olivastra Seggianese from Frantoio Franci (Castel del Piano, Tuscany) placed sec­ond earn­ing 7,298 points.
Monocultivar Grignano Monte Guala from San Cassiano (Mezzane di Sotto, Veneto) fol­lowed with 6,737 points while Cima di Mola from the Antico Frantoio Oleario Intini (Alberobello, Apulia) placed fourth with 5,554 points.
---