As the offi­cial olive pick­ing sea­son opened in Tunisia's south­ern city of Sfax, run­ners from across Tunisia and neigh­bor­ing Algeria took their marks for the country's sev­enth Marathon of the Olive Trees on Sunday.
Algerian ath­lete Abed El-Hachemi who crossed the fin­ish line in two hours and 44 min­utes secured his sec­ond con­sec­u­tive vic­tory and received 1,000 Tunisian Dinars ($354) in prize money. He com­pleted the course around six min­utes slower than in 2018.
The crowds had quite a wait before Franco/Tunisian Philippe Houssin came in sec­ond after three hours and 39 min­utes fol­lowed in third place by Sfaxian run­ner Salim Bejaoui.
In the women's marathon, Tunisia's Mahbouba Belgacem was first to cross the fin­ish line after run­ning for four hours and 17 min­utes. Silver and bronze medals also went to Tunisian women; Syrine Mejri came in sec­ond and Rania Houas was third across the line.
Algeria also excelled in the men's half marathon where Housseyn Halloufi won and pock­eted 600 Tunisian dinars ($212), while fel­low Algerian Hassen Halloufi came in sec­ond and Tunisia's Khalil Soltani was the third run­ner home.
Tunisian women dom­i­nated the half marathon when Chefia Hendaoui won gold, Leila Annabi secured sil­ver and Algeria's Lynda Hamiane came in third.
The star of the 10 km run was 85-year-old Mohamed Kazdaghli, who fin­ished the race in just over an hour beat­ing many of his younger com­peti­tors although he was pipped to the post by Algeria's Ali Rekhrou who won the race. Tunisian run­ner Abdelrahim Zhoui took sil­ver and Fares Debaya, also from Tunisia, won bronze.
Gold, sil­ver and bronze medals for the women's 10 km run went to Tunisian run­ners Chahira Barghouthi, Rawya Triki and Maryem Benkrayem.
Competitors were moti­vated to par­tic­i­pate in the olive tree marathon by a vari­ety of goals. Wajdi Crif Damak, an anes­thetist at a clinic in Sfax, ran the half marathon with a ban­ner declar­ing ​"One Tunisia — One Goal." He told Olive Oil Times his dream was a united Tunisia with peo­ple from across the coun­try pulling together for a brighter future.
Aymen Ghorbel who ran the 10 km race told us he had com­peted in prepa­ra­tion for the forth­com­ing Tunis Marathon and Karim Boughzala told us it was the third time he had par­tic­i­pated in the 10 km run along with friends purely ​"for the fun of it."
Naamen Bouhamed launched the first Marathon of the Olive trees in 2012 and aspired to grow sports tourism in Tunisia with a world-class sport­ing event attended by elite ath­letes and inter­na­tional runners.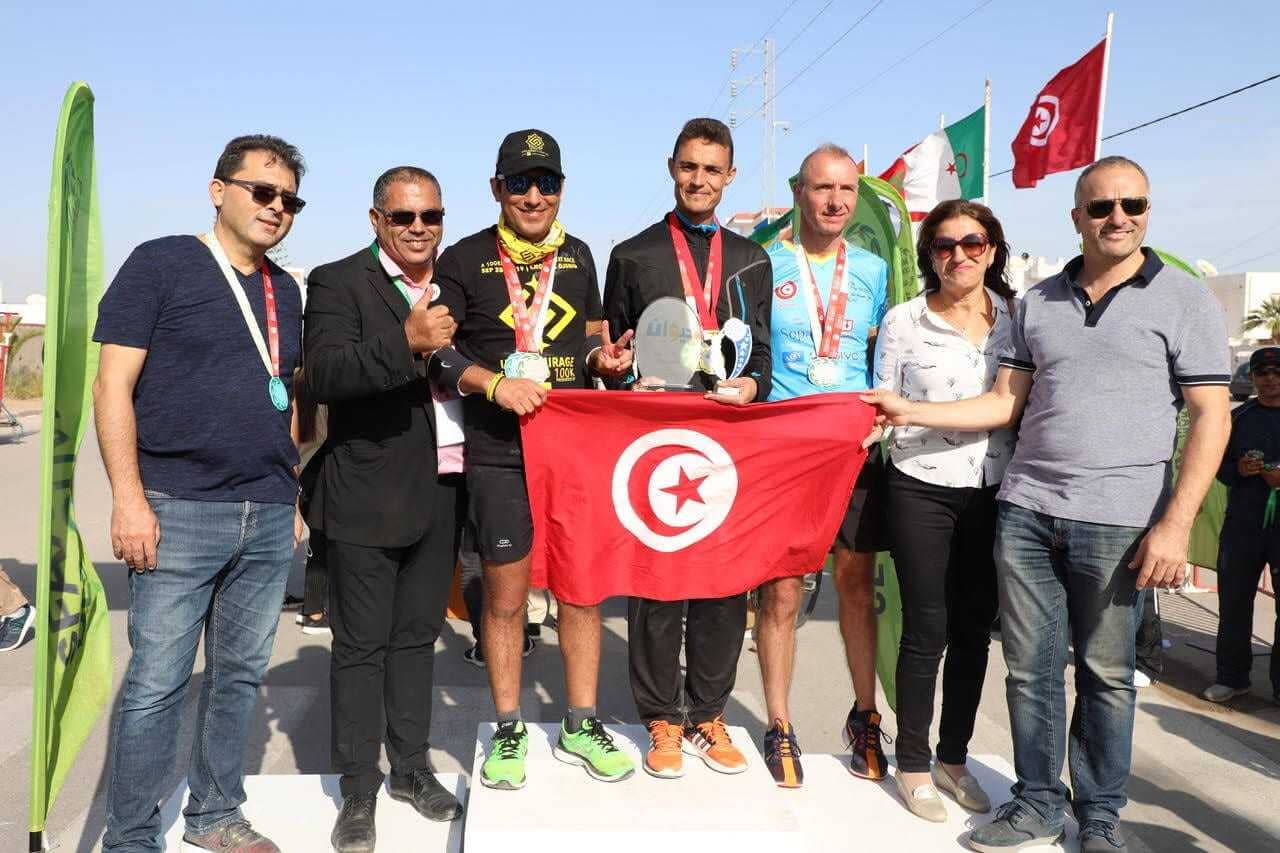 Despite a new, faster course, the 2019 Marathon strug­gled to attract elite com­peti­tors and inter­na­tional run­ners with fewer par­tic­i­pants in both cat­e­gories than in the 2016 race which wel­comed par­tic­i­pants from the UK, France, Germany, Hungary, Ethiopia and Morocco.
The con­stantly smil­ing and ever-enthu­si­as­tic Bouhamed spoke of the chal­lenges he had faced, namely dif­fi­cul­ties secur­ing visas, bureau­cracy and a lack of sup­port from the authorities.
Bouhamed remained opti­mistic about real­iz­ing his vision of attract­ing more tourists to the his­tor­i­cally-rich city of Sfax (which has applied for UNESCO her­itage sta­tus) along with other areas in the south of Tunisia which remain largely unex­plored by tourists who gen­er­ally con­verge in the coastal resorts of Sousse and Hammamet.
Hundreds of young­sters from Sfax and the sur­round­ing areas includ­ing the island of Kerkennah, assem­bled at the city's ancient Medina for a 3‑km ​"Fun Run" held the after­noon before the marathon. The fes­tiv­i­ties con­tin­ued into the evening with a dis­play of Sfaxian cul­ture and tra­di­tional live music.
The aptly named Marathon of the Olive Trees takes place in Tunisia's largest olive-grow­ing region which pro­duces around 80 per­cent of the country's olive oil.
Our reporter noted that the olive trees were laden with plump fruit which appeared to sup­port an ear­lier pre­dic­tion from The Tunisian Ministry of Agriculture that olive oil pro­duc­tion in the North African coun­try could reach 350,000 tons this sea­son, mak­ing Tunisia once again the world's sec­ond-largest producer.
In October, Tunisia's pres­i­den­tial race was won by Kais Saied, a 61-year-old law pro­fes­sor. Saied secured around 72 per­cent of the elec­toral vote while his main oppo­nent Nabil Karoui, a jailed media mogul who faced accu­sa­tions of cor­rup­tion and money laun­der­ing, trailed behind with sup­port from just 27 per­cent of the electorate.

---
---