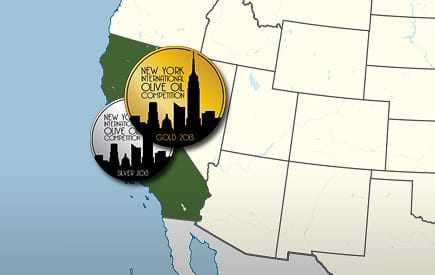 U.S. olive oil pro­duc­ers had a very strong show­ing at the 2013 New York International Olive Oil Competition. This year's com­pe­ti­tion included 702 entries of extra vir­gin olive oil from 22 coun­tries. The high­est num­ber of over­all awards went to Italy (83 awards), Spain (51 awards)and the U.S. (36 awards).
Producers from the U.S. brought in 21 Gold and 15 Silver medals. All 27 win­ning pro­duc­ers were from California. All but three of them are based in Northern California.
Some pro­duc­ers achieved mul­ti­ple awards. Pacific Sun Olive Oil led the pack with three Gold medals. Il Fiorello Olive Oil Co., Bondolio Olive Oil, Apollo Olive Oil and Berkeley Olive Grove 1913 won two Gold medals each.
Olive Oil Times spoke with a cou­ple of the win­ners.
Apollo Olive Oil is a fam­ily owned small busi­ness in Oregon House, California. The com­pany has received more than 45 awards, includ­ing being named as one of the top ten olive oil pro­duc­ers in the world by the Mastri Oleari Golden Lion inter­na­tional com­pe­ti­tion. Apollo's olives are organic and tra­di­tion­ally farmed. Apollo part­ner Steve McCulley attrib­utes suc­cess of their olive oil to tak­ing extra steps for qual­ity, beyond the norm. He said Apollo's mill was designed to extract the oil in a vac­uum to reduce oxi­da­tion. In addi­tion, all olives are hand­picked and placed into buck­ets, rather than knock­ing them onto mats. McCulley says that this method is costly, but reduces bruis­ing and oxi­da­tion.
Berkeley Olive Grove 1913 is also a famil­iar name among award cir­cles. Their 100-year-old grove is the ​"largest plant­ing of mis­sion olives any­where," said co-owner Darro Grieco. Grieco attrib­utes the high qual­ity of Berkeley's oil to four key fac­tors: organic farm­ing, tra­di­tional agri­cul­ture (wide tree spac­ing), dry farm­ing (rain irri­ga­tion only) and the vari­etal. Grieco com­pares the old trees, planted in 1913, to wine where ​"the best wine comes from old vine­yards."
The win­ning olive oils from the United States are below. The full list of win­ners can be found at the Best Olive Oils web­site.
---