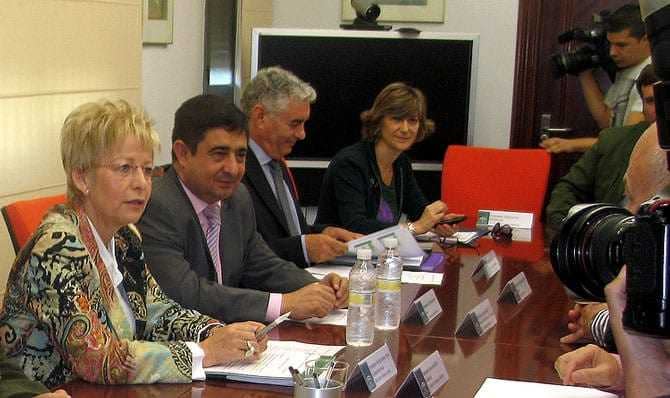 Elena Víboras (left), Minister of Agriculture, Fisheries and Rural Development, announced the Andalusian esti­mates in Jaén today.
Spain could return to record lev­els and pump out about 1.6 mil­lion tons of olive oil this sea­son, based on a a new fore­cast that Andalusia alone will make more than 1.3 mil­lion tons.
According to fig­ures from the Andalusian regional gov­ern­ment, its own out­put will come from an expected — and immi­nent — har­vest of 6.2 mil­lion tons of olives, mean­ing a yield of about 21 percent.
Given these fig­ures and oth­ers from Spain's Olive Oil Agency, it said the out­look for the national har­vest was a drop of just 0.3 per­cent in the 2011/12 all-time record of just over 1.6 mil­lion tons of olive oil.
But the big dif­fer­ence, accord­ing to the farmer union UPA, is that after a dis­mal har­vest last sea­son, this time Spain starts off with olive oil stocks of just 302,663 tons, less than half its 2011/12 car­ry­over of 692,500 tons.
"That means the same har­vest, but less olive oil on the mar­ket," said UPA spokesman Agustín Rodríguez, who also stressed that if it did not rain soon, pro­duc­tion could be up to ten per­cent lower than forecast.
Favorable weather aided recovery
Announcing the Andalusian esti­mates in Jaén today, Elena Víboras, Minister of Agriculture, Fisheries and Rural Development in the Andalusian regional gov­ern­ment, said they were based on sources includ­ing nearly a third of the region's 820 olive oil mills.
The region's antic­i­pated pro­duc­tion of 1.3 mil­lion tons of olive oil would be about a third above the aver­age for the last five sea­sons. The province of Jaén is expected to deliver 715,000 tons of this total, fol­lowed by Córdoba with nearly 274,000 and Granada with about 132,000 tons.
Spain's total pro­duc­tion fell to just 600,000 tons last sea­son — due to adverse weather — which depleted stocks but also pro­moted bet­ter flow­er­ing, fruit set and fruit devel­op­ment this season.
According to the Andalusian fore­cast, other fac­tors were favor­able weather con­di­tions, namely heavy rain­fall, good tem­per­a­tures dur­ing flow­er­ing, a good level of water stress, and no severe win­ter frosts.
These cir­cum­stances induced the phe­nom­e­non known in Spanish as vecería — the alter­na­tion between high and low yield harvests.
Table olives
The olive oil har­vest in Andalusia is expected to total about 411,000 tons — up seven per­cent on the aver­age for the last four sea­sons- and that for Spain nearly 497,000 tons.
Earlier this month, the International Olive Council pro­vi­sion­ally fore­cast a world­wide total of 2.5 mil­lion tons of table olives and 3 mil­lion tons of olive oil for 2013/14.
Seeking bet­ter grower prices
Viboras said the Andalusian gov­ern­ment would keep work­ing to improve incomes in the sec­tor and profit mar­gins for both grow­ers and upstream busi­nesses (such as mills and coop­er­a­tives), ​"although this would not be an easy task."
Rodríguez said reduc­ing the high level of frag­men­ta­tion on the pro­duc­tion side would be the fastest way to ​"coun­ter­act the abu­sive poli­cies of the big retail­ers, who will be the ones decid­ing prices in the imme­di­ate future, not obey­ing the sup­ply of olive oil in the mar­ket — which will be less than two sea­sons ago — and their con­tin­ued use of olive oil as a loss leader product."
The Andalusian olive oil sector
Andalusia ded­i­cates just under a third of its arable land to olive cul­ti­va­tion — a total of 1.5 mil­lion hectares.The major­ity of its about 170,000 olive plan­ta­tions are less than 10 hectares.
Together they gen­er­ate annual pro­duc­tion to the value of more than €2.2 bil­lion ($3b), nearly half of which comes from Jaén.
The offi­cial olive oil sea­son runs from October to September.
---