Agrotourism and culi­nary tourism should be fur­ther devel­oped in Greece to expand tourism beyond the sum­mer and the beaches, so it can con­tribute more to the strug­gling Greek econ­omy, accord­ing to Ioannis Michaletos at Balkanalysis. If the tourism, agri­cul­ture, and food pro­duc­tion indus­tries were more tightly linked, he argues, that could improve prospects for all three sec­tors by increas­ing for­eign­ers' recog­ni­tion and appre­ci­a­tion of Greek prod­ucts and, if stan­dard­ized prod­ucts were offered, Greek brands.
In Crete, tourists can start by dri­ving west of Chania on the ole­an­der-bor­dered national road, beside rolling hills full of olive groves with a view of the sea, to a tra­di­tional stone mill, one of the world's old­est olive trees, a mod­ern olive oil fac­tory, and a botan­i­cal park and restau­rant that rose from the ashes of a great fire.
The scenery is most spec­tac­u­lar near the Astrikas Estate in Kolymvari, with rocky hills and sheer cliffs ris­ing behind the olive trees, in front of the sky and the dis­tant sea. George (Yiorgos) Dimitriadis is the fifth gen­er­a­tion in his fam­ily to own the olive groves he and his wife, Christine Lacroix, reju­ve­nated to pro­duce Biolea extra vir­gin olive oil in the PDO of Kolymvari.
Dimitriadis is fill­ing a spe­cial niche by focus­ing on high qual­ity, small-scale arti­sanal organic pro­duc­tion and reach­ing out to peo­ple from var­i­ous nations through sus­tain­able agro­tourism and exports. He invested in cre­at­ing not just a fac­tory, but ​"a des­ti­na­tion" for vis­i­tors, with a tra­di­tional three-stone mill, olive press, and bot­tling machin­ery over­looked by the mez­za­nine tast­ing room and store.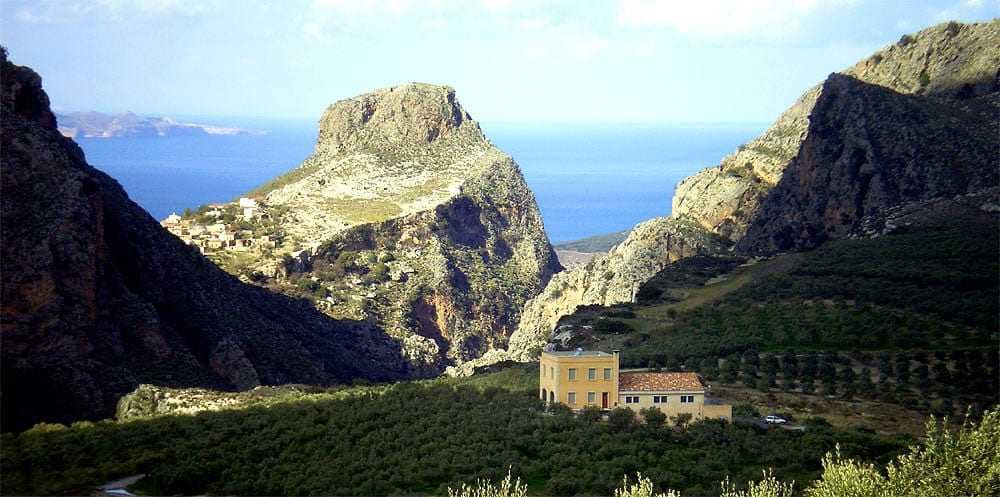 Much like the mills of Roman times, but adapted to meet cur­rent health stan­dards, Biolea's may be the only stone mill licensed to sell olive oil in Greece today. Visitors can watch the milling and press­ing from the mez­za­nine dur­ing the win­ter, or see a video about it and tour the mill dur­ing the sum­mer. They can hear about Biolea's envi­ron­men­tally con­scious use of dust (rather than pes­ti­cides) to repel the olive fly, its low water and energy con­sump­tion, and its burn­ing of olive waste to pro­duce heat. They can learn how whole lemons or bit­ter oranges are poured into the stone mill along with the olives to pro­duce pastes that become unique mix­tures of oil and cit­rus, and how the stone milling pro­duces an unusu­ally mild, excep­tion­ally healthy oil, and they can sam­ple these dis­tinc­tive prod­ucts.
Next to the Olive Tree Museum in nearby Ano Vouves is a giant olive tree esti­mated to be at least two thou­sand years old (if not twice that, or more). Its age can­not be deter­mined with radio­car­bon dat­ing, since the tree is hol­low. However, much more remains than bark; attract­ing about 20,000 peo­ple each year, the tree looks like an amaz­ing sculp­ture. New growths have appeared both inside and out­side the trunk's shell, and some branches have swirled around each other, leav­ing pic­turesque holes in a trunk that still sup­ports large boughs with healthy leaves. Starting with the Athens games in 2004, some of the sprigs cut dur­ing prun­ing have been used to make the wreaths that crown Olympic marathon cham­pi­ons, in a return to ancient tra­di­tion.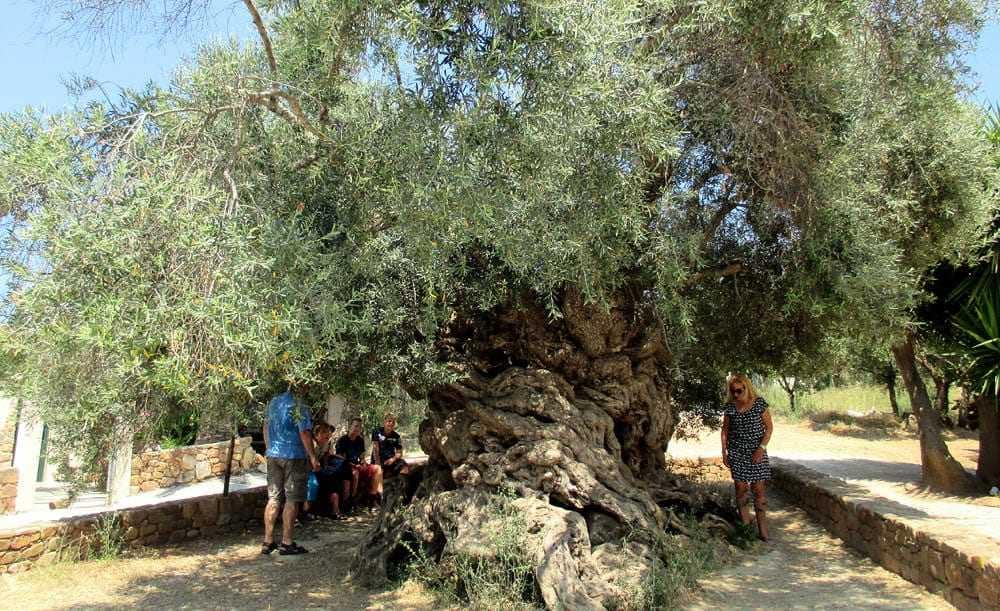 Emmanouil (Manolis) Karpadakis, Marketing Manager of Terra Creta, told Olive Oil Times that his com­pany coop­er­ated with the Municipality of Platanias to have a small olive mill built to extract oil from the 50 kilo­grams of olives pro­duced by the ancient Vouves tree. At Terra Creta's large, mod­ern fac­tory, a guide explains the olive oil pro­duc­tion process as well as prac­ti­cal things such as health ben­e­fits and how to choose, use and store olive oil.
Tourists can see the two iden­ti­cal pro­duc­tion lines which enable con­tin­u­ous extrac­tion of both con­ven­tion­ally grown and organic olive oil. They can hear about Terra Creta's eco-friendly aspects: light comes from solar tubes, with mir­rors to bring sun­light inside; dry pomace, an olive waste prod­uct, pow­ers the mill's heat­ing sys­tem; farm ani­mals eat the olive tree leaves; and wash­ing water is used for irri­ga­tion or evap­o­rated. In the shop and tast­ing area in the build­ing up the dri­ve­way, vis­i­tors can look through the half walls of office win­dows to the roomy bot­tling plant beyond them, learn about olive oil tast­ing, and sam­ple some of Terra Creta's award win­ning olive oils.
Olive oil tast­ing may stim­u­late an appetite for lunch, per­haps at the acclaimed restau­rant above the Botanical Park of Crete which uses the park's organ­i­cally grown pro­duce and olive oil as well as other locally grown ingre­di­ents in both typ­i­cal Greek foods such as small pies with greens and cheese or arti­chokes with broad beans, and less com­mon entrees includ­ing chicken with orange, lime, and lemon grass sauce.
The restau­rant and park rep­re­sent ​"a return to the Cretan soil and, at the same time, return to Cretan Tradition and Diet," accord­ing to their web­site, after a 2003 wild­fire dev­as­tated the area, destroy­ing the orange groves and olive trees that under­pinned its econ­omy. Undaunted, the four Marinakis broth­ers set to work, grad­u­ally trans­form­ing their family's burnt land into an agri­tourism and culi­nary tourism attrac­tion that drew 32,000 vis­i­tors last year, accord­ing to Kostas Marinakis.
Guests walk through the exten­sive park, under banana trees, past trop­i­cal flow­ers, Grecian urns, fra­grant rose­mary, and orange trees to a pond with ducks, geese, and turkeys. They pause at the shaded benches, then admire the roam­ing pea­cocks and the Cretan goats before climb­ing the hill past the kiwi and roses, through the cool grape arbor, past geo­met­ric arti­chokes and bril­liant gera­ni­ums, near sil­very green clumps of herbs under nec­tarine, plum, apri­cot, and pome­gran­ate trees, past a tree hung with farm­ing tools, around and up to the hill­top restau­rant. Tourists pose for pho­tos next to scat­tered antiques and burnt olive tree trunks and gaze beyond them to neat rows of olive trees on sur­round­ing hill­sides.
---