The city of Nablus, in the north­ern West Bank, has long been known for its pro­duc­tion of olive oil soap.
These small, white, nearly scent­less blocks of Nabulsi soap have been man­u­fac­tured in the area since the 10th cen­tury, with the prac­tice pro­gress­ing to an indus­trial scale around the 14th cen­tury.
We're deal­ing with these prod­ucts emo­tion­ally, not only for money.
By the early 1900s, 42 Nabulsi soap fac­to­ries were sup­ply­ing half the soap in Palestine, send­ing prod­ucts across the Arab world and even export­ing as far afield as Europe and the United States.
However, a myr­iad of envi­ron­men­tal, eco­nomic and socio-polit­i­cal hard­ships that have struck the West Bank in recent decades has reduced those 42 fac­to­ries to a mea­ger three.
See Also:
Olive Oil Culture
The Tuqan Factory, the Nablus Soap Company and the Shaka'a fam­ily have con­tin­ued to develop and adapt their busi­nesses despite adver­sity, rang­ing from ris­ing olive oil prices to mil­i­tary occu­pa­tion.
The Tuqan fac­tory is owned by the Tuqan clan, a promi­nent Palestinian fam­ily that dom­i­nated the polit­i­cal and eco­nomic spheres dur­ing the 18th cen­tury.
Historically, the Nablus soap indus­try was run by polit­i­cal lead­ers, nobil­ity and pow­er­ful mer­chants, who used their asso­ci­a­tions to con­sol­i­date the main forces of pro­duc­tion: farm­ers who pro­duced the olive oil, Bedouins who pro­vided the labor, arti­sans who crafted the soaps and traders who were able to reach broader mar­kets such as those in Egypt and Syria.
In order to estab­lish and finance a cen­tral­ized rule over the city, the Tuqan clan acquired sev­eral Nabulsi soap fac­to­ries. Although most of the fac­to­ries were lost with the family's decline in the 19th cen­tury, they retained the Tuqan Soap Factory, located in the Qaryun quar­ter of the old city of Nablus.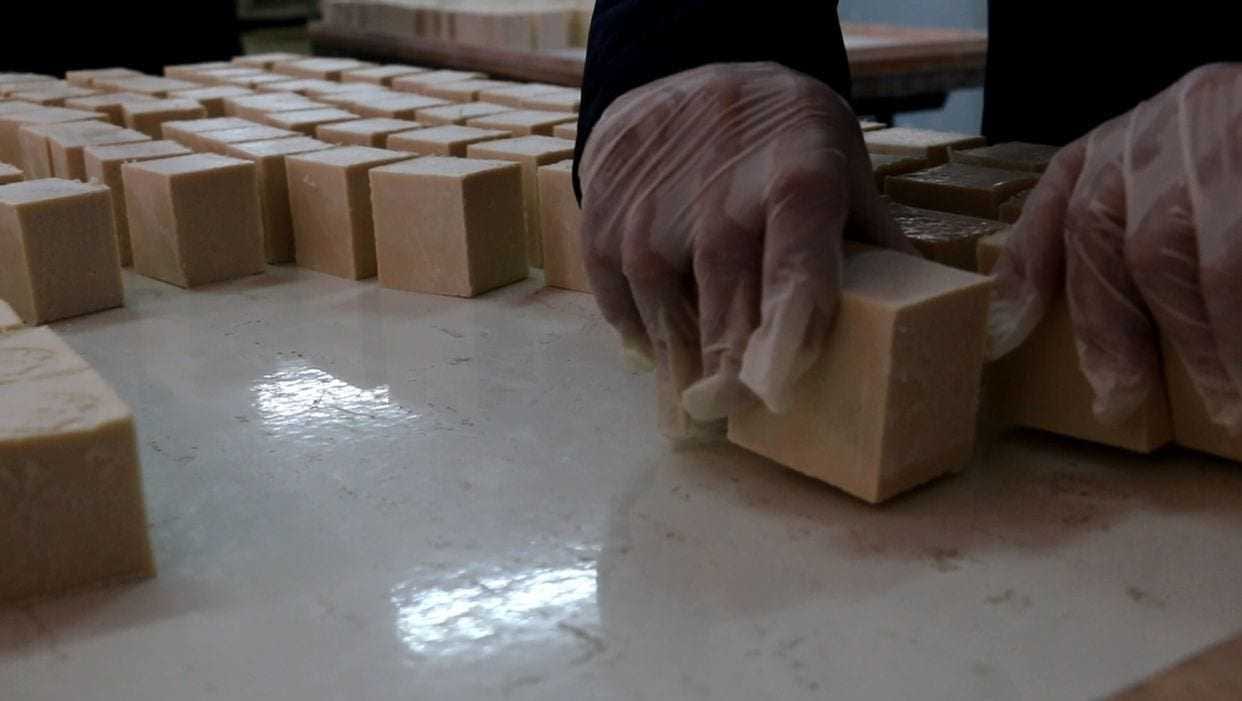 The Tuqan fac­tory is housed in a large, rec­tan­gu­lar stone struc­ture, sparsely dec­o­rated with a spa­cious hall where the soap is made. Traditionally, each fac­tory had a par­tic­u­lar archi­tec­ture, and each room, as well as each indi­vid­ual involved in the sys­tem­ized process, held cul­tural sig­nif­i­cance.
The three ingre­di­ents – olive oil, water and bak­ing soda – used to be mixed by hand in a large cop­per pot. Now, an auto­mated mixer cuts the process down by sev­eral days and the soap is heated over gas instead of the dried olive husks that were burned in the past.
Once the mix­ture is fin­ished cook­ing, it is tasted for qual­ity, spread over the large stone floor and left to cool. As it solid­i­fies, indi­vid­ual bars are cut and stamped with the family's al-Muftaheen logo.
Finally, the bars are stacked into the large, con­i­cal tow­ers for which the Nablus soap indus­try is famed. The tow­ers allow air from the open win­dows to cir­cu­late between each bar. This final dry­ing process can last a month or longer, depend­ing on the time of year.
Once dried, the bars are hand-pack­aged in a wrap­per also bear­ing the family's emblem.
It hardly comes as a sur­prise that this ancient prac­tice strug­gles to sur­vive in light of mod­ern soap-mak­ing tech­nolo­gies, which require fewer work­ers, hours and dol­lars.
One of the major fac­tors con­tribut­ing to Nablus' van­ish­ing soap indus­try is the scarcity of afford­able olive oil within Palestine.
"The Palestinian pop­u­la­tion is expand­ing, mean­while there's a short­age of land allot­ted to grow olive trees," Mujtaba Tebeileh, owner of Nablus Soap Company, told Olive Oil Times. ​"So in the last 30 to 40 years, the amount of land where we can plant trees has become less and less, because of the con­trol of Palestinians."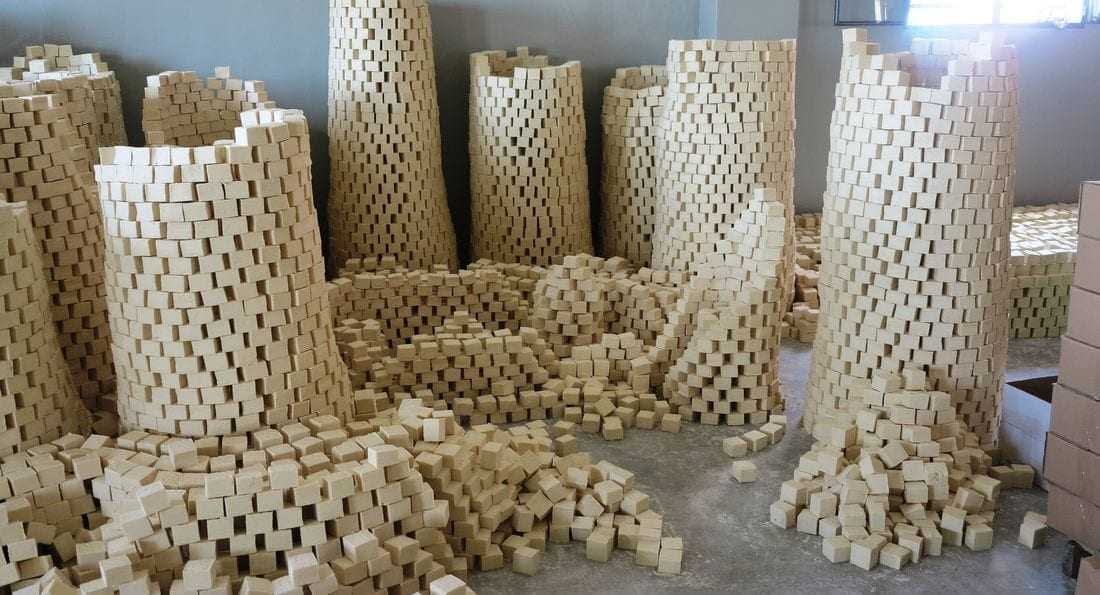 Tebeileh added that olive oil con­sump­tion in Palestine has risen over the pre­vi­ous decades, along with the pop­u­la­tion, and olive har­vests have stag­nated. This com­bi­na­tion has meant there is less avail­able olive oil for soap pro­duc­tion.
The his­toric abun­dance of olive trees in Nablus made the city an impor­tant cen­ter for olive oil pro­duc­tion, and thus Nabulsi soap. When cash crops began dom­i­nat­ing the area in the late 19th cen­tury, about 40,500 hectares (100,000 acres) of olive groves were planted on land now belong­ing to both Israel and the Palestinian ter­ri­to­ries.
However, this abun­dance ulti­mately led to exploita­tion, as Israel claimed much of the land and the trees that were grow­ing on it. Tebeileh men­tions an addi­tional imped­i­ment.
"Foreign inter­na­tional coun­tries have started to buy Palestinian olive oil because it comes from the holy land, so the price has become very high," he said.
The Nabulsi soap com­pa­nies, Tebeileh said, could not com­pete.
Foreign occu­pa­tion has also heav­ily affected how trade works in the soap indus­try. Raw mate­ri­als, such as the olive oil being imported from Italy and Spain, as well as large quan­ti­ties of bak­ing soda, must pass through an increas­ing num­ber of check­points intro­duced by Israeli author­i­ties.
Tebeileh says that export­ing his soap back out to the 72 coun­tries he serves is even more dif­fi­cult; a 100-mile trip to the sea­port can take more than three days.
"That means costs, many costs." he said. Passing through the Israeli check­points also means that Tebeileh needs to have the nec­es­sary per­mits.
"If they want to give me a per­mit, they can," he said. ​"If they don't, there's no rule in the world that forces them to give me this per­mit."
Despite these dif­fi­cul­ties, which are only exac­er­bated in the Covid-19 pan­demic, Tebeileh said that his com­pany is doing well.
He makes 400 vari­a­tions of Nabulsi soap – some con­tain­ing hemp, essen­tial oils or fruits – and exports them across the globe.
He has trav­eled to every soap-mak­ing des­ti­na­tion, shar­ing the tech­nique and cul­ture of olive oil soap and learn­ing about its pro­duc­tion else­where.
Perhaps most impor­tantly, Tebeileh takes immense pride in his work. He said that his fam­ily has been in the soap mak­ing busi­ness for 1,000 years, and even­tu­ally he will pass the legacy on to his chil­dren, who he says insist on con­tin­u­ing the com­pa­ny's sto­ried legacy.
"We're deal­ing with these prod­ucts emo­tion­ally, not only for money," he said.
Although Palestine's impos­si­ble cir­cum­stances threaten to shut­ter nearly every Nabulsi soap fac­tory, the indus­try has man­aged to retain its craft.
---
---