Despite a long his­tory and rich tra­di­tions, olive oil from the for­mer French Protectorates Tunisia and Morocco still have not gained inter­na­tional atten­tion.
While the world's largest pro­duc­ers and exporters, Italy and Spain, have had a painful year strug­gling to sup­ply their expected quota of extra vir­gin olive oil, it's a dif­fer­ent story in two North African coun­tries where the olive sea­son has been excel­lent.
In Tunisia on the north­ern coast of Africa, olive grow­ers are rejoic­ing: they've had an excep­tional year and have started to take advan­tage of increas­ing world­wide demand for extra vir­gin olive oil.
According to the International Olive Council (IOC), Tunisian olive oil pro­duc­tion is expected to reach 220,000 tons this year, an increase of 160 per­cent. The record har­vest is good news for a coun­try with an oth­er­wise declin­ing econ­omy.
A state­ment released from Tunisia's Ministry of Industry, Energy and Mining said that the Tunisian Council of Olive Oil expects olive oil export rev­enues to reach more than 1,800 mil­lion Tunisian dinars ($935 mil­lion) for the 2014 – 2015 sea­son.
Although olive oil is Tunisia's prin­ci­pal export com­mod­ity, the coun­try has always been in the back­ground on the olive oil pro­duc­tion world stage and has never been given the recog­ni­tion it deserves. Tunisia exports around 75 per­cent of its olive oil in bulk to Italy and Spain where it is mixed with other oils, bot­tled and mar­keted.
Now, Tunisia wants to be more com­pet­i­tive with its own branded prod­ucts. In April this year the coun­try hosted the third national com­pe­ti­tion for the ​"best pack­aged olive oil." Based on two cri­te­ria — the qual­ity of olive oil and pack­ag­ing design — the com­pe­ti­tion orga­nized by the Ministry Industry, Energy and Mining attracted twenty-two pro­duc­ers and three were rec­og­nized with awards. Despite its move toward higher qual­ity pro­duc­tion, Tunisia was win­less in this year's New York International Olive Oil Competition.
Neighboring Morocco, already the sec­ond-largest global exporter of table olives, is reap­ing the rewards of the gov­ern­men­t's Green Morocco plan for olive farm­ing. In 2008, The Moroccan Government intro­duced the pro­gram to encour­age farm­ers in rural areas to switch to grow­ing olive trees instead of wheat or other crops, cre­at­ing more jobs and a boost to olive oil pro­duc­tion. Thanks to the ini­tia­tive, Morocco now has one mil­lion hectares ded­i­cated to olive groves.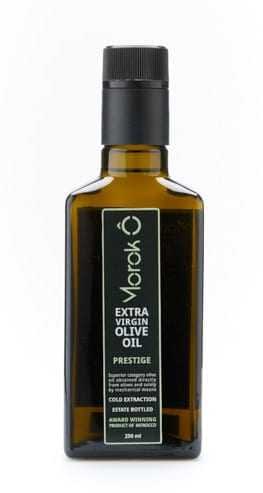 According to the Moroccan cen­ter for Export Promotion, Morocco has almost dou­bled its pro­duc­tion in six years to 1.5 mil­lion tons. The olive oil sec­tor has greatly reduced unem­ploy­ment for women in par­tic­u­lar, cre­at­ing over 300,000 per­ma­nent jobs
Up until now, the qual­ity of Moroccan olive oil was rel­a­tively unknown but researchers, using indus­try stan­dards recently ana­lyzed and pub­lished their report on the qual­ity and purity of Moroccan olive oil in the jour­nal Food Chemistry. Researchers clas­si­fied 94 per­cent as extra vir­gin and only 6 per­cent as vir­gin oil. One Moroccan olive oil brand, Morok O, won a Gold Award at the NYIOOC.
According to Morocco's Directorate of Studies and Financial Forecasts (DEPF) Morocco's main export clients are the European Union with shares of 50 per­cent and the US with 37 per­cent.
As con­sumers abroad are show­ing greater inter­est in qual­ity olive oil and ori­gin des­ig­na­tions, the next step for both coun­tries, indus­try stake­hold­ers say, is to move from bulk export­ing to branded prod­ucts for added value.
---