Potential Dangers of Pomace Olive Oil: Cheaper is Not Always Better
During my mother's most recent search for olive oil at a local gro­cer, she selected a cheaper option she had never pur­chased before. This oil was shelved with dozens of other well-known, respectable olive oils, pack­aged in an attrac­tive glass bot­tle, adorned with a hearty olive tree and waver­ing Italian flag, and beneath it all, the mys­te­ri­ous label ​"pomace olive oil."
Unsure of what this meant exactly, but pleased with the price and the promises of var­i­ous hype words and adver­tis­ing jar­gon, my mother made the buy. Later she real­ized she had pur­chased a lesser grade that lacked the expected fla­vor in her recipes with olive oil.
The imposter's smell, taste and tex­ture were noth­ing like an extra vir­gin. Upon fur­ther inspec­tion and a quick con­sul­ta­tion of some sources, we dis­cov­ered that my mother and many other con­sumers com­plain­ing vehe­mently over the inter­net had unwit­tingly pur­chased a bas­tardized prod­uct that was­n't even olive oil — but some­thing called ​"olive pomace oil."
Further research revealed that the Spanish gov­ern­ment, noto­ri­ous for its strict reg­u­la­tion of olive oil prod­ucts, had tem­porar­ily banned the sale of this grade of olive oil in July 2001.
I had never heard of pomace olive oil, and after a quick sur­vey of friends and fam­ily, I dis­cov­ered I was not alone. I was astounded by my own igno­rance of this prod­uct and that of the gen­eral pub­lic, espe­cially con­sid­er­ing the poten­tial dan­gers of con­sum­ing pomace oil from unreg­u­lated pro­duc­ers. So, just what is pomace olive oil, exactly?
While extra vir­gin olive oil is often denoted as being ​"first cold press," what is termed ​"pomace oil" can­not even qual­ify as being ​"sec­ond press." Once the typ­i­cal, mech­a­nized extrac­tion of olive oil from the olive fruit is com­plete, some 5 to 8 per­cent of the oil remains in the left­over olive pulp or ​"pomace." Although the extracted pomace oil is still tech­ni­cally oil that comes from olives, this is done via chem­i­cal sol­vents and, there­fore, should never be termed, directly or indi­rectly, as ​"olive oil."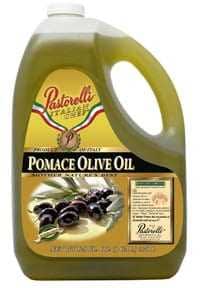 The International Olive Council (IOC), the inter­gov­ern­men­tal orga­ni­za­tion respon­si­ble for out­lin­ing qual­ity stan­dards and mon­i­tor­ing olive oil authen­tic­ity, clearly defines olive oil as ​"oil obtained solely from the fruit of the olive tree, to the exclu­sion of oils obtained using sol­vents or re-ester­i­fi­ca­tion processes." The amount of oil con­tained in the left­over pomace, which con­sists of the solid remains of the olive, includ­ing skins, pulp, seeds, and stems, is so min­i­mal that it can­not be extracted by press­ing but only through the com­bined use of chem­i­cal sol­vents (like Hexane) and extremely high heat.
See Also:
International Standard for Olive Oil (IOC)
This process, the same high heat tech­nique used in pro­duc­ing canola, sun­flower, and other veg­etable oils, is why unreg­u­lated olive pomace oil some­times con­tains harm­ful com­po­nents known as poly­cyclic aro­matic hydro­car­bons (PAHs) like ben­zopy­rene, which research has shown to be highly car­cino­genic and muta­genic. Benzopyrene results from the incom­plete com­bus­tion of the fats present in the olives. Benzopyrenes are likely to be pro­duced when fats are exposed to high heat lev­els, like in the pomace oil extrac­tion processes where there is no com­plete com­bus­tion and no smoke is pro­duced.
The process to extract olive pomace oil is as fol­lows: a chem­i­cal sol­vent is first admin­is­tered to the olive pomace, which can dis­solve the fats but not the rest of the solid pomace. This appli­ca­tion extracts the oil, and then the prod­uct is heated in a refin­ing process. Hence, the sol­vent evap­o­rates com­pletely and cleanly with­out leav­ing any harm­ful residue — so long that this heat­ing method does not exceed 90 degrees Celsius (194°F). Using this sys­tem, the final prod­uct will not likely con­tain poly­cyclic aro­matic hydro­car­bons (PAHs) like ben­zopy­rene.
The risk of ben­zopy­rene con­t­a­m­i­na­tion occurs when the heat­ing method used to evap­o­rate the sol­vent exceeds 300 degrees Celsius (572°F). In these instances, the fat is liq­ue­fied into fluid and then drips out of the olive pomace, but the prob­lem is that the insanely high heat results in the par­tial com­bus­tion of the oil with the rest of the phys­i­cal pomace. This can cause the rapid accu­mu­la­tion of ben­zopy­renes in the final prod­uct.
In heat appli­ca­tions above 300°C, the result­ing oil comes with a def­i­nite health risk for con­sumers, which depends entirely on the aggres­sive­ness of the heat treat­ment and the amount and fre­quency of the pomace oil con­sumed. Because the degree of con­t­a­m­i­na­tion depends on the type of treat­ment used, health author­i­ties must clar­ify what kind of treat­ment has been applied to pro­duce par­tic­u­lar pomace oils and estab­lish a per­mis­si­ble limit on the amount of ben­zopy­renes present.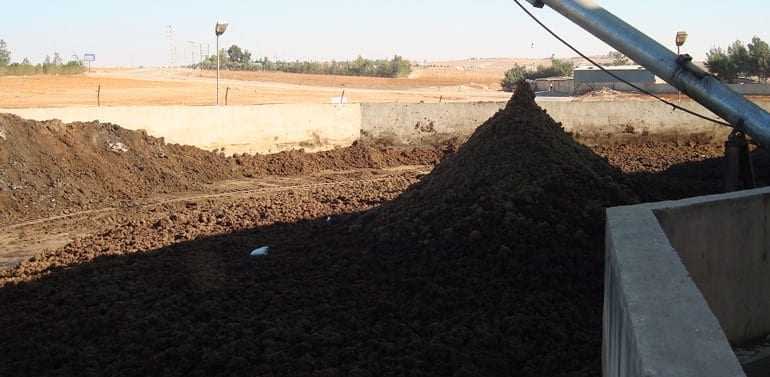 Benzopyrenes, being highly reac­tive fats, can dis­solve eas­ily into cel­lu­lar mem­branes and enter a cell's inte­rior. This result­ing action has been shown to cause either intra­cel­lu­lar oxi­da­tion – the age­ing and death of cells – or an intox­i­ca­tion which results in the muta­ge­n­e­sis of the genetic mate­r­ial in the cell's nucleus. In some instances, this spreads as an uncon­trolled mul­ti­pli­ca­tion of dam­aged cells which can result in a can­cer­ous tumor.
Concerned about the lev­els of PAHs like ben­zopy­rene in pomace oil, the Spanish gov­ern­ment intro­duced a tem­po­rary ban on pomace oil in July 2001 and halted all exports of pomace oil until tests were con­ducted and lim­its of the allow­able amounts of PAHs present in the oil were made con­crete.
Other coun­tries fol­lowed suit: the New Zealand Health and Food Safety Authority recalled olive pomace oil from sev­eral man­u­fac­tur­ers, and the German min­istry acted sim­i­larly, issu­ing this warn­ing: ​"As a pre­ven­ta­tive health pro­tec­tion mea­sure, the min­istry for con­sumer affairs, nutri­tion and agri­cul­ture has appealed to the German states and indus­try to review the remains of the 170 tons of Spanish olive-pomace oil and prod­ucts con­tain­ing this oil."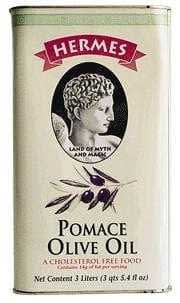 It later became appar­ent that other affected batches were pro­duced in Greece (Bevelini Olive Pomace Oil) and oth­ers from Italy (Dentamano Olio di Sansa de Oliva). In the Bevelini prod­uct, for exam­ple, a batch was reported to con­tain 100 parts per bil­lion of ben­zopy­rene — over 50 times the limit advised by the International Olive Council. And although human expo­sure to PAHs is some­thing of the quo­tid­ian — as they are also cre­ated with the com­bus­tion of fos­sil fuels, burn­ing trash, agri­cul­tural fires, indus­trial processes, tobacco smoke and vehi­cle exhaust emis­sions — our expo­sure to PAHs should be as lim­ited as much as pos­si­ble, espe­cially when ingest­ing food.
As a result, spe­cific stan­dards have been set in var­i­ous regions of the world lim­it­ing the allow­able amount of ben­zopy­renes in pomace olive oil. As men­tioned pre­vi­ously, within the European Union and in mem­ber states of the IOC, the limit is two parts per bil­lion or two micro­grams per kilo­gram, as decided in Resolution RES‑1/93-IV/05 Madrid in November of 2005.
With that said, how­ever, in other olive oil-pro­duc­ing coun­tries which are non-IOC mem­bers (India, emerg­ing Middle Eastern pro­duc­ers, sev­eral Latin American states, and even the United States, where retail grades have no legal mean­ing), such strin­gent stan­dards are not enforced. Therefore the pur­chase of pomace oil prod­ucts from these regions is not advis­able.
Even with the reg­u­la­tion of PAHs in pomace oil, culi­nary afi­ciona­dos and olive oil con­nois­seurs world­wide are still highly resis­tant to using olive pomace oil as a wor­thy cook­ing agent. From a sen­sory stand­point, it lacks extra vir­gin olive oil's fla­vor, del­i­cacy, and boun­ti­ful health­ful prop­er­ties. If used in the kitchen at all, pomace oil is mostly used in indus­trial set­tings or restau­rants as a deep fry­ing agent because of its high smoke point (240 degrees Celsius).
Unfortunately, we some­times buy olive pomace oil unin­ten­tion­ally, thanks to uneth­i­cal pro­duc­ers known to com­mit fraud by mis­la­bel­ing cans or bot­tles of olive pomace oil.
See Also:Trade Group Sues Olive Oil Producer for Deceptive Labeling
But it's also impor­tant to note that the process by which pomace oil is extracted is no dif­fer­ent to the process used to extract other con­ven­tional cook­ing oils such as corn, soy, sun­flower, saf­flower, canola, or cot­ton­seed and in com­par­i­son to these oils, pomace oil still retains olive oil's basic lipid pro­file and there­fore boasts high lev­els of oleano­lic acid which have been proven to relieve states of hyper­ten­sion and high blood pres­sure.
If you do hap­pen to acci­den­tally buy a bot­tle of pomace oil and are still resis­tant to the idea of using it as a cook­ing agent, you need not throw it away as there are a num­ber of uses for it. Because it is monoun­sat­u­rated fat, it is a bet­ter choice for cook­ing than other seed oils like canola, sun­flower or peanut. Unwanted pomace oil can also cre­ate soap or lubri­cate grill racks or pans. But with all of the avail­able olive oils on the mar­ket today, it's in your best inter­est to stick to extra vir­gin from a health and culi­nary stand­point. Your taste buds will thank you.
April 22, 2023 00:43 (UTC)
---