Olive oil mills are becom­ing more mod­ern and increas­ingly auto­mated. The gleam­ing stain­less steel and rows of but­tons are a tes­ta­ment to the effect that invest­ment and research have had on turn­ing fruit into oil. Traditional presses are often char­ac­ter­ized as an anachro­nis­tic, uneco­nomic way of mak­ing olive oil.

There is a ten­dency to look for the bit­ter and pun­gent oils that stand out in com­pe­ti­tions, but it's entirely pos­si­ble that this comes full cir­cle, and we see a return to lighter, fruitier oils that con­sumers often pre­fer.
Upgrading equip­ment and processes can be costly. However, some pro­duc­ers don't cite costs as the rea­son they stay with many of the older ways of doing things. Expense does­n't even fac­tor in their deci­sion.
Given the choice, why on earth might pro­duc­ers still want to make oils in this way? A small band of qual­ity-ori­ented estates across Greece, Italy and Tunisia's response is that using presses pro­duces oils of greater indi­vid­u­al­ity, main­tains a link to tra­di­tion, and best expresses their olives' char­ac­ter­is­tics.
When cen­trifu­gal decanters were intro­duced in the 1960s, becom­ing pro­gres­sively more refined over the fol­low­ing years, the ben­e­fits were clear. Centrifuges spin the olive paste at high speed in a hor­i­zon­tal or ver­ti­cal drum before sep­a­rat­ing the oil, water and waste.
Combined with sim­i­larly mod­ern crush­ing meth­ods as olives entered the mill, such as ham­mer mills, cen­trifuges made pro­duc­ing olive oil more effi­cient. They also made the process con­tin­u­ous; in other words, there was no need to stop while the equip­ment was re-stacked. You keep pour­ing olives in, you keep get­ting oil out.
Franco Boeri Roi of Olio Roi, a farm that has around 10,000 Taggiasca trees near Imperia in Liguria, Italy, was not about to dis­pute the dis­ad­van­tages of work­ing with presses. His mill, which pro­duces oil sold to the likes of Eataly and Zingerman's in the US, as well as in other coun­tries, has both a mod­ern, con­tin­u­ous line and a more tra­di­tional, dis­con­tin­u­ous line with gran­ite mill­stones and hydraulic presses. ​"The time and care you need to give to clean­ing, labor costs and the space needed are big draw­backs," admit­ted Roi.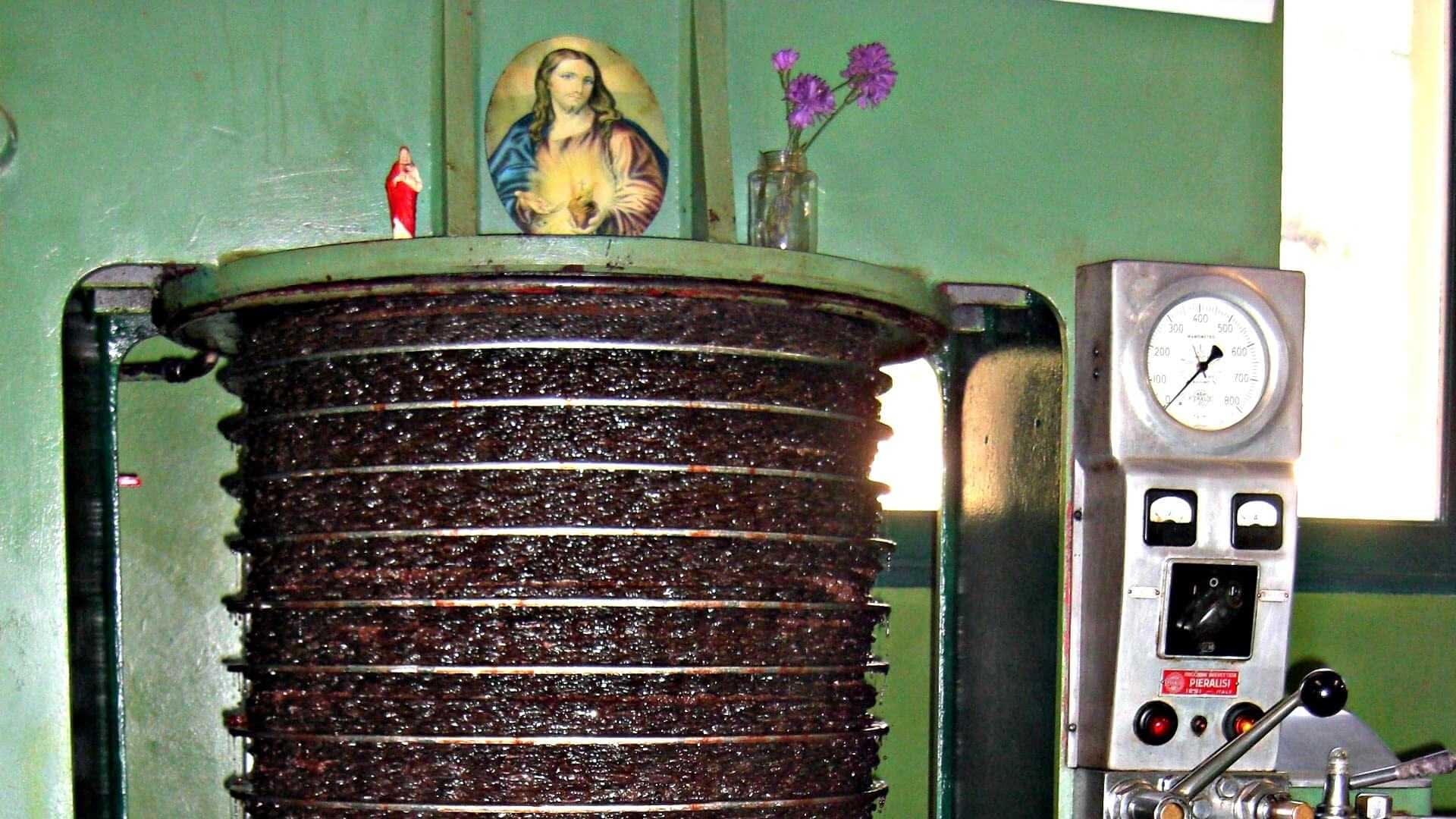 Over in Greece, Kiara Koutoulakis' fam­ily estate, Koronekes, near Heraklion in Crete makes oil from Koroneiki olives. Like Olio Roi, they make oil using both presses and the con­tin­u­ous, cen­trifu­gal method. ​"The stages of pro­duc­tion using presses are the same as the ones in a mod­ern olive mill," explained Koutoulakis, ​"but right after the malax­a­tion, the paste is poured onto stain­less steel discs which are stacked one by one until a full press of 80 – 100 discs is ready." While the discs are stacked, the run-off of oil from the paste is col­lected and bot­tled under the estate's Fleur d'Huile label before the oil from the press­ing itself is col­lected for its other brand.
"Unlike the blasted oils made with cen­trifu­gal extrac­tion meth­ods, the olive juice gen­tly seeps out of the paste and most of the volatile and del­i­cate aro­mas, fla­vors and polyphe­nols are pre­served," Koutoulakis said. She added, ​"When we taste the cen­trifu­gally-extracted oils we make in another olive mill in the vil­lage, it is clear that the pressed oils have more aro­mas and fla­vors."
Roi also agrees that dif­fer­ent pro­cess­ing meth­ods give dif­fer­ent oils: ​"With the tra­di­tional method, you get an oil that is sweeter and richer with notes of hazel­nut and pine nuts; with the con­tin­u­ous method, you get more green fruit, and a thin­ner mouth­feel with grassy notes of olives, arti­choke and green apple."
Most peo­ple would agree that diver­sity in styles of olive oil is a good thing. But there is also some­thing more intan­gi­ble and dif­fi­cult to cap­ture about using presses, which seems to ren­der mod­ern mills if not exactly bor­ing in com­par­i­son, then cer­tainly less excit­ing places to be at har­vest time.
Abdelmajid Mahjoub of Les Moulins Mahjoub, a Tunisian estate near Tunis that sup­plies oil to the bak­ery chain Le Pain Quotidien, still uses presses. ​"My attach­ment is ancient, and a sym­bol," he said. ​"There is a strange inten­sity of pas­sion and an immense tal­ent in pro­cess­ing olives tra­di­tion­ally. The mod­ern process is humil­i­at­ing for the oil mas­ter and seems to be a lit­tle debat­able. It ster­il­izes us. The clas­sic process reflects the soul of the olive tree most won­der­fully.".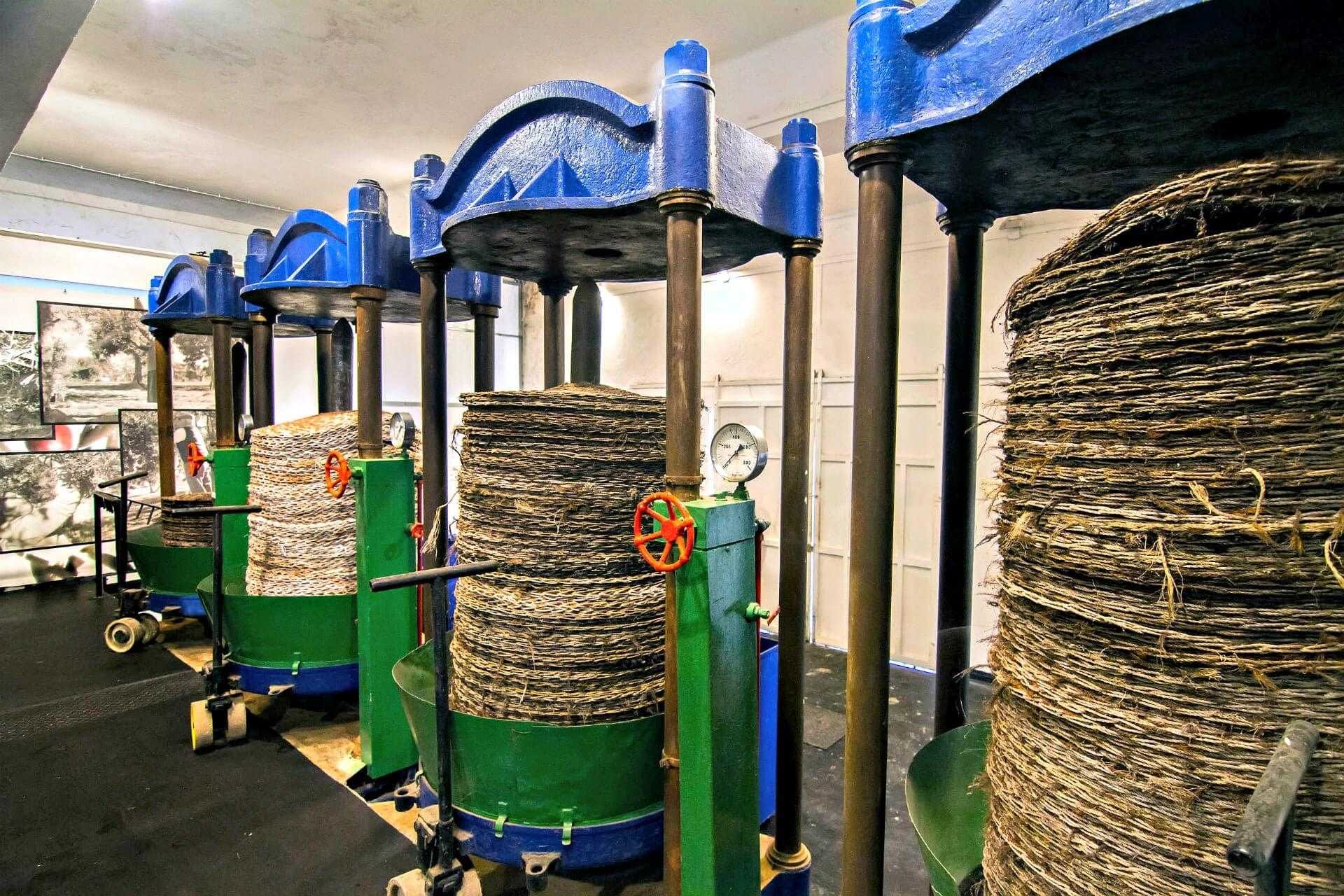 Yacine Amor, who dis­trib­utes the estate's prod­ucts in the UK through The Artisan Olive Oil Company, describes the impact of watch­ing a tra­di­tional mill in action: ​"I visit their farm on every trip to Tunisia. It is a very spe­cial expe­ri­ence where tra­di­tion and expe­ri­ence come together and the machines seem almost sec­ondary."
Back in Crete, Koutoulakis echoed Mahjoub's con­tention that mak­ing oils with presses requires a lot more from the miller, not least the tech­ni­cal demands: ​"There are a lot of para­me­ters to keep in mind such as malax­a­tion time, the room tem­per­a­ture when the discs are stacked with the paste, the stack­ing of the discs in record time to avoid oxi­da­tion, the tim­ing of the press…then the nat­ural decanta­tion process and the skim­ming process." All this, she said, ​"is a labor of love."
So, what does the future hold for oils made this way and their declin­ing num­ber of pro­duc­ers? Roi, for one, strikes an opti­mistic note by sug­gest­ing we might take a look at a trend in another indus­try. ​"If you look at what's hap­pen­ing in wine, there is a move away from all those wines matured in oak that tasted the same, and a return to more tra­di­tional tastes and vini­fi­ca­tion," Roi sug­gested.
Something sim­i­lar could even­tu­ally take place in olive oil, with a shift towards styles that favor more tra­di­tional meth­ods: ​"In oil now there is a ten­dency to look for the bit­ter and pun­gent oils that stand out in com­pe­ti­tions, but it's entirely pos­si­ble that this comes full cir­cle, and we see a return to lighter, fruitier oils that con­sumers often pre­fer."

---